By Paul Courson
CNN





WASHINGTON (CNN) -- A university team from Germany has won the U.S. Energy Department's Solar Decathlon for the second competition in a row, officials declared Friday. In second place was Team Illinois, and third place went to Team California.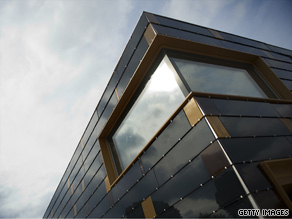 Team Germany's submission is covered in panels that produce more than enough energy for the house.
Twenty universities began constructing solar-powered homes October 1 on the National Mall, between the U.S. Capitol and the Washington Monument. The competition was judged in 10 categories.
The judges said Team Germany's strongest advantage was the amount of energy their house put back into the power grid.
The structure, a large, dark rectangular cube with wood trim, is nearly entirely covered in solar panels.
"OK, I'll be totally honest; I did not prepare a speech. It's supposed to be my job, but I didn't, because we did not expect to win again," Sardika Meyer said in accepting the award along with her teammates from Germany's Technische Universitat Darmstadt.
The school won the previous competition in 2007.
Meyer later told CNN that her colleagues were concerned they might lose this time because their engineering design did not seem as strong as that of other schools, and she was worried the dark cube lacked what is popularly called "curb appeal."
Don't Miss
Officials judged the 20 schools not only on aesthetics and solar power generation but on consumption of energy and ability to maintain a "comfort zone" between hot and cold for the home's inhabitants.
Team California's design ranked among the highest for curb appeal. But the home's ability to be energy self-sufficient was not as strong as Germany's, and its overall ranking fell behind that of Team Illinois.
Nonetheless, the California team declared the results a great reason to start a party at the house, and as judges and spectators had one last look at the homes before they are dismantled, the sounds of California-themed music played loudly from the house's entertainment electronics.
The system appeared to have adequate power from the home's solar panels, despite the overcast, drizzly weather on the National Mall.
Up the promenade, the University of Illinois team quietly enjoyed their success in a home of modest, understated cosmetic design.
Mark Adams, a mechanical engineering student at the school, said it was a "nail-biting" close competition.
During remarks accepting the second-place trophy, he said his team proved that a "simple, cost-effective design does not have to compromise in aesthetics" and that "this is the future, and this is the way houses are going to be designed."
E-mail to a friend

All About U.S. Department of Energy • Germany