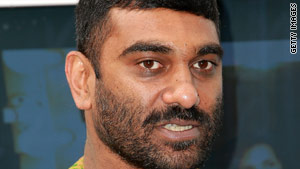 Kumi Naidoo: If politicians won't change their politics "then we must change the politicians."
STORY HIGHLIGHTS
Greenpeace Executive Director: 300,000 people will die from climate change this year
Copenhagen summit offers best chance to avert even worse catastrophe
2 degree Celsius rise would bring mass starvation, mass extinction
Climate talks so far strangled by short term expediency, national parochialism
Editor's Note: Kumi Naidoo took up the role of International Executive Director of Greenpeace on November 16, succeeding Gerd Leipold who steps down after nine years. Born in 1965, Naidoo fought against apartheid in South Africa before fleeing to the UK in 1987. He spent his time in exile at Oxford as a Rhodes scholar, earning a doctorate in political sociology. Naidoo returned to South Africa in 1990 and was later the founding chair of the Global Call to Action Against Poverty.
(CNN) -- Today we face a perfect storm. As the crises related to the climate, economy, food and poverty collide and combine they threaten to overwhelm us.
Climate change is not in the future anymore. This year 300,000 people will die from its impact, and next year that figure will rise. Climate refugees, climate conflict, climate fuelled famine and drought are all a reality.
Around the world civil society has responded to this storm with energy, creativity and action. As I take up my new position at Greenpeace, I know that I am committed to continuing to build a global coalition that can address these issues: One that puts the interests of the world's citizens foremost in the minds of their governments. One that can usher in a green, just and peaceful future for our planet.
Have your say at COP15 -- Join the CNN/YouTube debate
When the public demands a fair, ambitious and binding deal at the Copenhagen Climate Summit politicians like Barack Obama tell them they are making "the perfect the enemy of the good".
Those politicians need to recognize where we are. Perfect has long gone. From Florida to Bangladesh one in 10 people live within a meter of sea level. The ice-caps are melting and it seems inevitable that all of those people will have to defend or abandon their homes this century. In this, and a thousand other ways all 6.5 billion of us are about to start paying the price for decades of inaction on climate change.
At Copenhagen we have our best chance to avert the worst of the coming climate catastrophe. So far the talks have been strangled by short term expediency, election cycles and national parochialism. Those of us who have followed the world trade negotiations are familiar with this lack of ambition. But Copenhagen is not a trade negotiation. You can't win this while others lose. Either we all get it right together or we all sink. Nature does not negotiate.
Science tells us that once the increase in global temperature crosses a 2 degree Celsius tipping point it will run away beyond our control. A temperature surge that will bring with it mass starvation, mass migration and mass extinction.
That's why we need a deal now.
Developing nations understand this. Their populations face the worst impacts of a problem they did not create. Despite this double injustice they have come to the negotiations with proposals and ideas. They have described the changes and sacrifices they are willing to make. The politicians of the rich world have shut the door in their faces.
The latest suggestion from the rich world is that a legally binding deal be replaced with a collection of politicians' promises, wrapped up in a photo-opportunity at Copenhagen. That's a gift the world can do without this Christmas. Better no deal at all than we go forward with a bad deal, whistling in the dark, as we walk toward catastrophe.
All the experience of UN summits and international talks has shown that nothing short of a legally binding treaty will get results. While we may not be able to get the i's dotted and t's crossed, that's no reason not to agree a deal with all the right bits in it and set the lawyers to work writing the most important treaty in history.
In the next month the millions of voices that have been raised around the world need to become even louder. The leaders of the developing world are already stirring to action, but the politicians in the rich world remain sound asleep. The global wake up call they need must come from the public they represent.
The must understand, they cannot change climate science so they must change their politics, and if they won't, then we must change the politicians.