STORY HIGHLIGHTS
G20 countries must do more to reduce carbon emissions, according to a new report
The PwC Index shows most countries are failing to meet carbon intensity targets
G20 nations cut carbon intensity by 0.8 percent each year from 2000 to 2008
Delegates will discuss a global climate treaty at U.N. talks next week
London, England (CNN) -- G20 economies need to quadruple cuts in their carbon intensity levels in the next ten years or risk a dangerous rise in global temperatures by 2050, according to new report.
During the eight years to 2008, G20 members cut their carbon intensity by just 0.8 percent each year, according to the "Low Carbon Economy Index" released by PricewaterhouseCoopers on Tuesday.
That is less than half the amount the report's authors say is needed to keep the world within a "global carbon budget" of 1,300 gigatonnes of CO2 by 2050.
"If the world stays on this track we will have used up the entire global carbon budget for the first half of this century by 2034, 16 years ahead of schedule," said John Hawksworth, head of macroeconomics at PricewaterhouseCoopers.
The firm's carbon budget is based on recommendations from the Intergovernmental Panel on Climate Change (IPCC) that the world must limit the concentration of greenhouse gases in the atmosphere to 450ppm.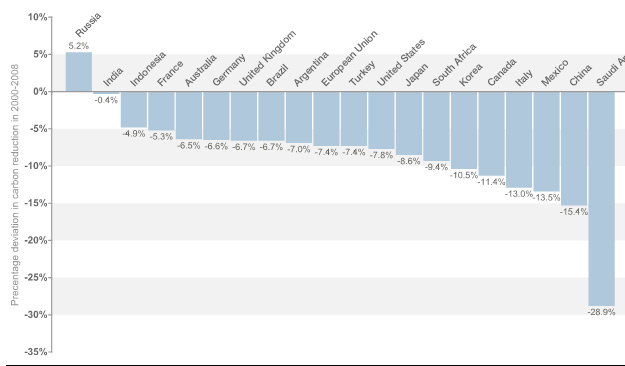 Low carbon achievement index
In its Fourth Assessment released in 2007, the IPCC said exceeding that target would risk a global temperature rise of more than two degrees Celsius which could tip the world into irreversible climate change.
In total, the PwC report says the G20 economies have veered off the nominated climate goal by some 10 percent.
The report's authors divided the total carbon budget between the G20, based on their GDP and contribution to current greenhouse gas emissions.
Sixty-three percent of the carbon budget was allocated to China, the U.S., the EU and India. Russia accounted for four percent, and Japan, three percent. Other nations were grouped under "other," representing 30 percent of the total share.
The report found only Russia had beaten carbon targets between 2000 and 2008, mainly due to improvements in energy efficiency. India was close to achieving its targets, but the remaining nations had fallen well behind on action needed to keep carbon emissions in check.
If the world stays on this track we will have used up the entire global carbon budget for the first half of this century by 2034
--John Hawksworth
"The PwC Low Carbon Achievement index highlights that, despite the widening consensus around the need to decarbonize, few countries are doing enough to live within our estimates of their carbon budgets," Hawksworth said.
To get back on track, the G20 members need to cut carbon intensity four times faster than they have been, by 3.5 percent each year until 2020, the report concludes.
By 2050, global annual carbon emissions from energy use need to be around half the level recorded in 2008.
"All this while sustaining a global economy nearly four times as large as today and a population around one and a half times as large," said Leo Johnson, partner, sustainability and climate change at PricewaterhouseCoopers.
But he says it is possible.
"China has decarbonized since the 1990s at an average rate of over four percent a year, some way above the 3.5 percent a year reduction in intensity we need globally to 2020."
"The technology is known, the policy framework is known. What we need now is the political will and direction to implement," he added.
Argentina, Australia, Brazil, Canada, China, France, Germany, India, Indonesia, Italy, Japan, Mexico, Russia, Saudi Arabia, South Africa, South Korea, Turkey, United Kingdom, United States European Union
If G20 members fail to reach the 3.5 percent target, the report warns that more ambitious targets will have to be set between 2020 and 2050, and that could threaten economic growth.
Next week, hundreds of delegates will descend on Copenhagen for the United Nations climate summit.
It is hoped they will agree a global treaty for reducing carbon emissions, but deep divisions remain over the size of the cuts and proposed aid to developing countries to allow them to make the transition to clean energy.
SCORECARDS
European Union -- Seven to eight percent behind where it should be in terms of meeting 2050 emissions targets. Of member states, the report says France is a "relatively good performer" whereas Italy is lagging.
The U.S. -- Shows similar results to the EU, a shortfall of seven to eight percent.
China -- Made significant progress in cutting carbon intensity in the 1990s but fared less well in the decade after when energy consumption rose faster than GDP.
India -- Has achieved "significant" improvements in energy efficiency between 2000 and 2008, but has made less progress so far in diversifying away from fossil fuels
Russia -- The only country to have reduced carbon intensity since 2000 by more than expected. Can be attributed to improvements in energy efficiency.
Saudi Arabia -- Considered a special case given its high dependence on fossil fuels. Scores very poorly on the index.