U.N. official optimistic on climate accord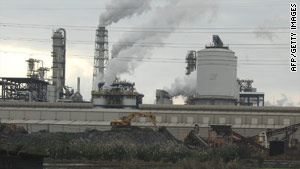 Delegates are gathering in Copenhagen, Denmark, to reach a consensus on a global warming treaty.
STORY HIGHLIGHTS
Clark expresses optimism based on China, India moves
Delegates from 192 countries begin global climate summit
Lawson tell Amanpour he supports investigation into "climategate"
(CNN) -- On the opening day of the global climate summit in Denmark, a key U.N. official said she is optimistic that there will be a binding international treaty next year to cut greenhouse gas emissions.
"The developed countries will have binding targets in the treaty, I hope," U.N. Development Programme chief Helen Clark, New Zealand's former prime minister, told CNN's Christiane Amanpour.
"But the developing countries are also making their own moves and it seems to me that when China puts its reputation out there saying it will do this, when India puts its reputation out there, I believe they're going to do it."
Clark's comments, to be aired in a program on Tuesday, came as delegates from 192 countries began in Copenhagen what advocates say is the most important international conference since World War II. Delegates at the U.N. Climate Change Conference are striving to put aside national differences, end finger-pointing, and reach a consensus on how to prepare the ground for a treaty designed to limit global warming.
But the two-week conference has been overshadowed to some degree by the publication of hacked e-mails from Britain's University of East Anglia, a top global climate research center, that critics say prove some scientists deliberately manipulated data to reinforce their theories on global warming.
One of those critics, Lord Nigel Lawson, the former British chancellor of the exchequer in the Thatcher government, said he supports an investigation into what is being called "climategate." He said the e-mails appear to reveal serious wrongdoing by some scientists.
"There's been no further global warming since the end of the 20th century," he told Amanpour on Monday. He added it is more important for developing countries to focus on the fastest economic development possible to alleviate poverty.
"If there is a problem of warming -- there might be, there might not be -- if there is, then you adapt to it, as mankind adapts to enormously different temperatures at different parts of the globe at the present time," Lawson said.

Video: Climategate 101

Video: Gibbs defends EPA announcement
Nobel Peace Prize winner Wangari Maathai, one of Africa's leading environmentalists, told Amanpour she agrees with Lawson that Africans should focus on what they can do for themselves, or what they can do with the help of others, even though she does not share his skepticism on global warming.
She warned that Africans face immense challenges.
"Africans will have to work very hard to deal with very harsh climates anyway, because we know that the desert is expanding, there is a scramble for the Congo forest, for example, we know the rivers are drying up. So whatever happens, it is good that the Africans this time are very united and they are working very hard.
"Whatever happens, Africa needs to think for itself and especially for its vulnerable people."