(CNN) -- Launch of the space shuttle Discovery has been delayed at least a week, NASA has announced.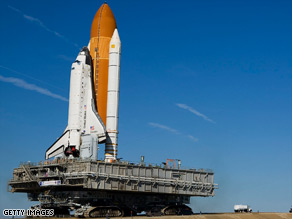 Discovery moves atop the crawler transporter in Cape Canaveral, Florida, on January 14.
The shuttle will now lift off no earlier than February 19 because of concern over a valve in the main engine. A decision on the launch date will be made February 12, after more analysis and testing of the part.
NASA said Tuesday night: "The valve is one of three that channels gaseous hydrogen from the engines to the external fuel tank. One of these valves in shuttle Endeavour was found to be damaged after its mission in November. As a precaution, Discovery's valves were removed, inspected and reinstalled."
This will be the shuttle's 28th mission to the international space station.
The mission will deliver the final set of solar arrays needed to complete the station's complement of electricity-generating solar panels. They will help support the station's expanded crew of six in 2009.
"More crew means that we'll have to run more life support equipment, more crew support equipment -- toilet facilities, water processing equipment and all of that stuff," Kwatsi Alibaruho, the lead space station flight director for the mission, said on NASA's Web site. "We'll have to run more of all of that, so we need additional power."
The expanded capacity will mean more hands to perform science experiments. The mission also will include four spacewalks.
E-mail to a friend

All About NASA • International Space Station • Space Shuttles