KENNEDY SPACE CENTER, Florida (CNN) -- NASA could try to launch the space shuttle Discovery early Friday after bad weather and a mechanical issue delayed two launch attempts Tuesday, the space agency said.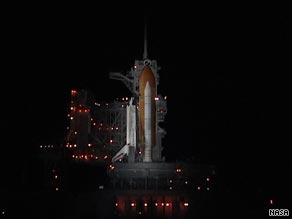 Discovery rests on launch pad 39A after the first launch delay.
Bad weather forced mission controllers to put off a pre-dawn launch Tuesday, while a second planned launch was scrubbed after a hydrogen valve failed to show up on controllers' displays as being closed. NASA now hopes to launch the shuttle at 12:22 a.m. Friday after new tests on the valve, which controls the flow of liquid hydrogen into the shuttle's external fuel tank, launch integration manager Mike Moses told reporters Tuesday night.
"When we went to close that valve after we were done with the fill. We did not get an indication that that valve got closed," Moses said. However, there was no indication that the valve was leaking, and the super-cool temperatures needed to handle the fuel can cause instruments to fail, he said.
The mission will be Discovery's 37th trip into space and the 30th shuttle flight dedicated to International Space Station assembly and maintenance. Its crew includes seven astronauts, including one from Mexico and another from Sweden.
"Basically, you go when the time is right," astronaut Cady Coleman told CNN after the first scrub. "And a space-station mission has to go at a certain time. You have a window of time in order to catch up with the space station."
Commander Rick Sturckow and Pilot Kevin Ford are to guide Discovery to the space station.
One of Discovery's seven astronauts, Nicole Stott, is to remain on the space station as a flight engineer, replacing astronaut Timothy Kopra, who is to return home aboard Discovery as a mission specialist, according to the NASA Web page for the mission. iReport.com: Do you plan to watch the launch?
Also on board: The Leonardo logistics module, science experiments and the Combined Operational Load Bearing External Resistance Treadmill (COLBERT), named for comedian Stephen Colbert of Comedy Central's "The Colbert Report."
Colbert won an online poll conducted by NASA to name the newest space station compartment, but Colbert and the space agency compromised to give the moniker to the treadmill. The new compartment was given the name Tranquility.
"I'm so proud my treadmill will be going into space to help trim down those famously fat astronauts. Lay off the Tang, Chubby!" Colbert said in a statement last week.
The mission will be Discovery's 37th to space, and the 30th shuttle mission dedicated to International Space Station assembly and maintenance, NASA says.
NASA plans to retire the the space shuttle fleet at the end of 2010 and wouldn't be able to send crews to the space station for at least several years after that. In the meantime, U.S. astronauts will have to hitch rides to the International Space Station aboard Russian Soyuz spacecraft.
E-mail to a friend

All About Space Shuttle Discovery • International Space Station