(CNN) -- NASA on Thursday put off the planned launch of the space shuttle Discovery for a third time to give engineers more time to study tests on a liquid hydrogen valve, the space agency announced.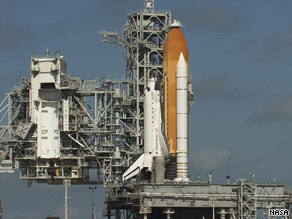 Space shuttle Discovery rests on launch pad 39A at Florida's Kennedy Space Center.
The shuttle's liftoff -- originally set for Tuesday -- has been put off until 11:59 p.m. Friday, mission managers said. Two scheduled launch times were put off Tuesday, one due to bad weather and the other when a hydrogen valve failed to show up as closed on controllers' displays.
NASA said tests on the valve -- which directs the supercooled, volatile fuel into Discovery's main engines -- were completed Wednesday, and the valve and its position indicator operated normally. But managers needed more time to evaluate the test data, so the scheduled launch was put off for nearly 24 hours.
Discovery is scheduled to fly to the international space station with a crew of seven astronauts, including one from Mexico and another from Sweden. One of those seven, Nicole Stott, will remain on the station as a flight engineer, while astronaut Timothy Kopra is to return home from the space station aboard the shuttle.
Also on board: The Leonardo logistics module, science experiments and the Combined Operational Load Bearing External Resistance Treadmill (COLBERT), named for fake newsman Stephen Colbert of Comedy Central's "The Colbert Report."
Colbert won an online poll conducted by NASA to name the newest space station compartment, but Colbert and the space agency compromised to give the moniker to the treadmill. The new compartment was given the name Tranquility.
E-mail to a friend

All About Space Shuttle Discovery • International Space Station