(CNN) -- NASA has reset the launch of space shuttle Discovery for just before midnight Friday after engineers determined a hydrogen fuel valve that raised concerns earlier this week was working properly.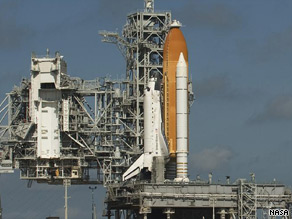 Space shuttle Discovery rests on launch pad 39A at Florida's Kennedy Space Center.
Discovery's liftoff, originally set for Tuesday, has been postponed three times -- first for bad weather, and twice more while mission managers checked out indications of a faulty valve. But Mike Moses, the shuttle's launch integration manager, said Thursday that the valve has operated perfectly in five tests.
"Everything points that it is a valve indicator problem," Moses told reporters.
Discovery is now set to lift off from Florida's Kennedy Space Center at 11:59 p.m. Friday. The valve, which feeds supercooled liquid hydrogen into the orbiter's engines, failed to show up as closed on controllers' displays before a scheduled liftoff Tuesday. Moses said the sensor used to determine whether the valve is closed has not worked well at the cryogenic temperatures needed to handle the fuel.
Earlier Thursday, the space agency postponed the launch another 23 hours to give engineers extra time to formulate a plan for what to do in case the indicator light problem continued.
Discovery is slated to fly to the international space station with a crew of seven astronauts, including one from Mexico and another from Sweden. One of those seven, Nicole Stott, will remain on the station as a flight engineer, while astronaut Timothy Kopra is to return home aboard the shuttle.
Also on board: The Leonardo logistics module, science experiments and the Combined Operational Load Bearing External Resistance Treadmill (COLBERT), named for fake newsman Stephen Colbert of Comedy Central's "The Colbert Report." Colbert won an online poll conducted by NASA to name the newest space station compartment, but Colbert and the space agency compromised to give the moniker to the treadmill. The new compartment was given the name Tranquility.
E-mail to a friend

All About Space Shuttle Discovery • International Space Station