(CNN) -- The space shuttle Discovery crew completed the second of three spacewalks scheduled for their 13-day mission to the international space station, NASA officials said Friday.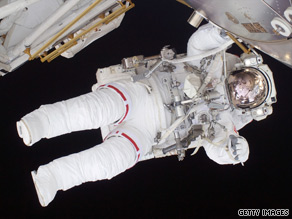 Flight engineer Nicole Stott removes a depleted ammonia tank from the international space station.
Mission specialists Danny Olivas and Christer Fuglesang installed a new ammonia tank on the international space station, completing the swap that began Tuesday.
The depleted tank assembly is being stowed in the shuttle's cargo bay for return to Earth.
The tank is part of a cooling system, which cycles 600 pounds of ammonia through the space station to "get rid of excess heat generated by the station's systems," NASA said.
Flight engineer Nicole Stott and shuttle pilot Kevin Ford manned the shuttle's robotic arm, helping Olivas and Fuglesang move the old and new tanks outside the station.
On Friday, debris from a European Ariane series rocket launched in 2006 is expected to move within 1.8 miles (3 kilometers) of the space station. NASA decided on Thursday the debris would not pose a danger to the space station and shuttle.
The mission's third and final spacewalk is set for Saturday. Separately, the crew has unloaded about half of the 8 tons of supplies ferried to the station aboard Discovery, according to NASA. The astronauts have until Monday to complete the job.
Discovery lifted off a week ago and linked with the space station two days later. Weather and technical problems had delayed the shuttle launch three times.
E-mail to a friend

All About International Space Station • NASA