NASA scrubs launch of Ares I-X rocket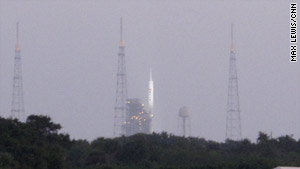 The Ares I-X sits on the launch pad at Kennedy Space Center in Florida early Tuesday.
STORY HIGHLIGHTS
Weather delays launch of 327-foot rocket at Kennedy Space Center
NASA will try to launch again Wednesday morning
Eventual goal with Ares I-X program is return astronauts to the moon
(CNN) -- NASA was unable to launch its unmanned test rocket Ares I-X Tuesday because of cloudy, windy weather, but will try again Wednesday morning, the space agency said.
Wednesday's scheduled launch time is 8 a.m. ET, NASA said.
NASA had until noon Tuesday to launch the 327-foot rocket -- currently the world's largest -- from the Kennedy Space Center in Florida.
The Constellation Program, of which Ares I-X is a part, has been developing new vehicles that would replace space shuttles, which will be phased out in 2010.
The flight test is part of NASA's mission to someday return astronauts to the moon and later travel to Mars.
If the Constellation Program moves forward, the Orion capsule atop the Ares rocket will not be ready to take astronauts into space until at least 2015, leaving a gap of at least five years in which the only way the United States would be able to put humans in orbit would be by hitching a ride with the Russians.
Starting at 8 a.m. ET Tuesday, the original launch target, NASA set subsequent launch times but got no cooperation from the weather. The launch was finally scrubbed shortly before 11:30 a.m.
Part of the test rocket mission is for scientists to test three massive main parachutes -- measuring 150 feet in diameter and weighing one ton each -- the largest rocket parachutes ever manufactured.
The parachutes are a primary element of the rocket's deceleration system, NASA says. After the rocket is successfully launched, the parachutes are to open at the same time, "providing the drag necessary to slow the descent of the huge solid rocket motor for a soft landing in the ocean," the agency says on its Web site.
The two parts of the rocket are to separate at about 130,000 feet. The top of the rocket, known as the upper stage, includes a mock Orion crew capsule and a launch abort system. The upper stage will continue its ascent until gravity forces its return to Earth, where it will fall into the Atlantic Ocean.
The launch comes at a critical time, when NASA is waiting for President Obama to decide future funding for the agency.
An independent committee reviewing the future of space flight recently reported that the U.S. space program appears to be pursuing goals that exceed current funding.
The committee also recommended to the White House that funding for NASA's under-construction international space station should be extended until 2020.
CNN's Kim Segal and John Zarrella contributed to this report.