NASA offers one giant app for mankind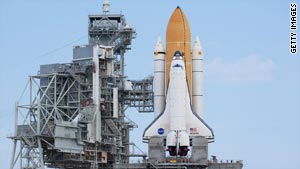 Want to keep up with NASA missions? There's an app for that.
STORY HIGHLIGHTS
NASA's new app allows iPhone, iPod Touch users to track missions

New app provides access to NASA's image database, Twitter feeds

Officials say app is part of effort to make space agency more accessible to public

(CNN) -- Space buffs can now keep up with NASA's mission launches by launching an app.
In its continuing quest to expand public awareness of its programs, the U.S. space agency has released a free application for Apple's iPhone and iPod touch.
The program, released late last week, ranked at No. 10 on iTunes "Most Popular" list by Wednesday. Responses were overwhelmingly positive among the more than 920 users who had rated it.
Users can not only keep up in real-time with current missions, but also follow future ones. An orbit-tracker tracks the positions of the International Space Station and other spacecraft orbiting Earth.
The app also offers users access to the agency's vast image library and integrates NASA's Twitter feeds, making it a one-stop fingertip-shop for all of NASA's interstellar goings-on.
"Making NASA more accessible to the public is a high priority for the agency," said Gale Allen, director of NASA's Strategic Integration and Management for Exploration Systems Mission. "Tools like this allow us to provide users easy access to NASA information and progress at a fast pace."
Users can put the app to immediate use when NASA tries again Wednesday to launch its unmanned test rocket Ares 1-X. A day earlier, the agency scrubbed the launch because of cloudy, windy weather.
The flight test is part of NASA's mission to someday return astronauts to the moon and later travel to Mars.
The space agency has consistently struggled with funding. It is hoping that Congress will boost its current $18.7 billion annual budget by at least $3 billion, so it can continue its ambitious programs.
And though a free iPhone app cannot generate money, it can generate interest -- one small step toward a giant goal.