NASA: Debris no threat to space station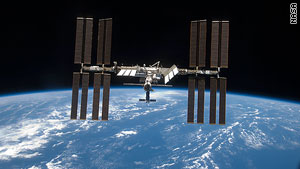 An astronaut and a cosmonaut are aboard the international space station.
STORY HIGHLIGHTS
NEW: Orbiting space junk is no longer a threat to strike the international space station

NEW: The debris was expected to get no closer than about a kilometer from the station

The station's two-man crew had been put on alert to enter escape pod

NASA spokesman had said it was too late for station to maneuver out of debris path

(CNN) -- A piece of space debris is not expected to pose any danger to the two crew members aboard the international space station, a NASA spokesman said Tuesday.
NASA spokesman Kelly Humphries said the space junk would get no closer than about a kilometer from the space station, where Commander Jeff Williams and Flight Engineer Maxim Suraev are sleeping.
Earlier Tuesday, while tracking the debris, Mission Control was considering waking the astronaut and cosmonaut if they needed to take shelter in the Soyuz spacecraft attached to the station, Humphries said.
He said it was too late to do any kind of maneuver away from the debris.
However, it was determined that the debris is not going to come close enough to the station to force the two men to move to the escape pod, Humphries said.
On Monday, three other crew members left the space station to return to Earth. Expedition 21 Flight Engineer and Soyuz Commander Roman Romanenko, European Space Agency Flight Engineer Frank De Winne and Canadian Space Agency Flight Engineer Robert Thirsk landed in Kazakhstan, NASA said.
Williams and Suraev will be the station's crew until December 23, when Russian cosmonaut Oleg Kotov, NASA's T.J. Creamer and Soichi Noguchi of the Japan Aerospace Exploration Agency arrive.
Last week, space shuttle Atlantis and its crew of seven landed at Kennedy Space Center in Florida after an 11-day mission that included the installation of two platforms on the space station.