(CNN) -- Local produce, fresh seafood and seasonal ingredients form the foundation of Malmo's exciting culinary scene.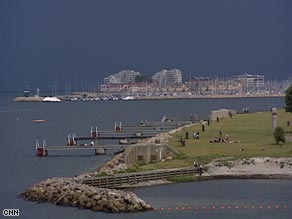 Local restaurants take advantage of the fresh seafood that is available.
At Bloom (Pildammsvagen 2) the modern European menu is crafted daily to reflect what's in season, and staff are even reluctant to serve distilled spirits before a meal, citing their numbing effect on the palate. The restaurant is outstanding, with prices to match -- but it's been so successful head chef Ebbe Vollmer, who's worked with Marco Pierre-White and Gordon Ramsey, has opened a new restaurant in Copenhagen.
The shorter distance between the farm and the table, the better the food. That's the philosophy at Salt & Brygga (Sundspromenaden 7). The waterfront restaurant sources all of the ingredients for its Mediterranean-inspired fare locally. From its solar-paneled roof to delicious organic fare, the restaurant is all about being eco-friendly.
Seafood lovers need look no further than Johan P Saluhallen (Landbygatan 3), located on a small street off Lilla Torg. Fish and shellfish caught fresh from the waters of the Baltic and North Atlantic are served up daily at this fine restaurant, which also has an impressive wine list. If you're in the mood for sushi, grab a seat at Sachi Sushi (Ostra Forstadsgatan 23B).
Arstiderna (Kockska huset, Frans Suellsgatan 3) serves contemporary Swedish cuisine with a French touch. Expect dishes like fried monkfish on glazed local apples with cider sauce and herb baked fillet of reindeer. Located in the city's Old Town, the restaurant is housed in the cellars of a 16th-century building that used to be the home of Malmo's powerful mayor Jorgen Kock. The offbeat setting and seasonal menu draw a loyal clientele.
My City_My Life
Each month CNN visits the world's coolest cities with the celebrities who know them best.


Malmo's multicultural heritage is represented in the restaurants around the vibrant Mollevangstorget. In this bustling square, you can enjoy some of the least expensive and tasty meals in the city. A red curry at Krua Thai (Mollevangstorget 12-14) will only set you back about 85 kronor. But falafel is by far the favorite cheap eat in town. Locals flock to Falafel No. 1 (Bergsgatan 37) to get their fix.
Mix and match dishes from the eclectic menu at Tempo Bar & Kok (Sodra Skolgatan 30). The trendy restaurant offers a range of seafood, meat and vegetarian dishes which are served tapas style. Popular among hipsters, especially musicians, the restaurant is high on style as well as taste.
Swedes take their coffee seriously and don't compromise when it comes to quality. Connoisseurs head to Solde Kaffebar (Regementsg 2), where the talented baristas whip up perfect espresso drinks. Lilla Kafferosteriet (Baltzarsgatan 24a), which roasts its own beans, is a cozy cafe where you can laze away the afternoon. If you need a quick caffeine buzz, Espresso House is the Swedish version of Starbucks, with stores across the city.
Indulge in rich spoonfuls of creamy gelato at Dolce Sicilia (Drottningtorget 6). In addition to serving frozen treats, the family-run gelateria sells foccacias and other light Italian bites. With a recently opened branch in the Western Harbor (Vastra Varvsgatan 37), you won't have to trek far to satisfy your sweet tooth.
....................
Malmo City Guide:

Where to stay | What to see | Where to be seen | Where to eat | Where to shop
Do you agree with our Malmo picks? Share your comments and suggestions in the SoundOff box below.
E-mail to a friend