(CNN) -- Amy, 29, moved from New York to Malmo five years ago. Like many foreigners in Sweden, she moved to the city for love. She currently works as a copywriter and plans to stay in the city indefinitely.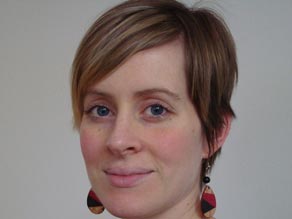 Like many foreigners in Sweden, love brought Amy to Malmo.
CNN: What brought you to Malmo?
Amy: My now-husband and I met in London eight years ago and after three years of going back and forth between England, New York and Sweden, I decided to move to Malmo. The idea was that I'd come for a year to learn Swedish. Five years on, I'm still here and have no plans to leave.
CNN: Malmo is Sweden's third largest city. How does Malmo stack up against Stockholm and Gothenburg?
Amy: To be honest, I've spent very little time in Gothenburg so I can't really say how it compares. But I love Stockholm and considered moving there for a job last year. Ultimately, though, I'm a Malmo girl.
For one thing, Malmo is more affordable. And even though Malmo is a small city, it feels bigger than it is. I love that combination of small city size with big city mentality. Malmo was a perfect place to move to as a foreigner because it was big enough to stimulate me but small enough to get to know quickly.
Malmo is also the closest of the three cities to continental Europe and has the whole "Oresundsregion" (the Malmo-Copenhagen area) going for it, which I think creates a sense of openness.
CNN: What has surprised you most about living in Malmo? How has your perception of Malmo changed since you first arrived?
Amy: The biggest surprise was the diversity and how much of my first few months in Sweden were filled with non-Swedes. I studied Swedish through a government program called SFI (Swedish For Immigrants). Through those classes, I got to know more people from around the world than I ever did in New York. It was pretty incredible.
My City_My Life
Each month CNN visits the world's coolest cities with the celebrities who know them best.


Before moving here, I knew very little about the city. I did know that Malmo had a strong working class and industrial history and because of that I didn't expect it to be as charming and pretty as it can be. It still has traces of those industrial roots (which I like) but they're mixed in with great parks, the beach and a picturesque town center.
I would say Malmo itself has changed since I first arrived. The center seems to be spreading out little by little and there's more development along the harbor. It's an interesting place to live because it's constantly expanding and figuring out what kind of city it wants to be.
CNN: What is your favorite part of the city?
Amy: I actually just moved away from my favorite area -- St: Knuts Torg. It's a neighborhood that's become really popular with young families. The small square has a couple of cafes and the surrounding blocks are full of charming old apartment buildings in pastel colors. Nearby Folkets Park is a small amusement park in the middle of the city and a great place to have a picnic in the summer.
CNN: Scandinavia is internationally renowned for design. What are your favorite design shops?
Amy: If I had to pick one favorite design store in the area it would probably be Normann in Copenhagen. But there are lots of great places in Malmo as well. Butik Fredrik carries the Design House Stockholm brand. Form Design Center has beautiful fabrics and a cute cafe. And DesignTorget has more affordable, up-and-coming designers and is good for gifts.
I'm a big fan of Swedish design from the 50s and 60s, too. For vintage furniture, Kjelles Mobler near Varnhem is the best. And there are antique stores throughout the city that sell classic Swedish china patterns.
CNN: Malmo once belonged to the Danes. Do you see Danish influences on everyday life?
Amy: The most obvious influence is the language. The dialect in Malmo and Skane (the southernmost region of Sweden) is influenced by Danish and sounds very different than the Swedish spoken in Stockholm, for example. Aside from the language, the ability to work in Copenhagen opens up the job market here enormously, and the fact that we're only 20 minutes from an international airport makes traveling abroad really easy.
But despite Denmark's proximity, the two countries are still very distinct and, like most Malmoites, I don't end up getting to Copenhagen as often as I'd like to. It ends up being a few times a year and every time I go I say, "I really need to come to Copenhagen more often."
CNN: What's considered a typical weekend in Malmo?
Amy: A very Malmo weekend would include strolling through town on Saturday -- from Triangeln to Stortorget -- and stopping for a fika (coffee and snack) at a cafe along the way. In the evening, going out to a bar around Mollevangen, maybe Tempo, or to a concert at Debaser. On Sunday you'd do brunch, which is getting more popular here, or go for a cold dip in the sea after a sauna at Ribersborgs Kallbadhus (cold bath house).
CNN: Malmo is extremely diverse. How does that influence the atmosphere of the city?
Amy: The large amount of immigration to Malmo gives the city energy and creates and atmosphere of change and movement. There's a postcard I've seen that says, "If you've seen Malmo, you've seen the world" in a bunch of languages. It sounds incredibly cheesy but in a way, it's true. Despite what people think about Sweden being full of stereotypical blonde-haired, blue-eyed Scandinavians, Malmo really is diverse. But it's not perfect, like any city with a lot of immigration, there's plenty of discussion and debate about immigration policies, integration, etc.
CNN: If Malmo were a person, what would he or she be like?
Amy: Hmm. Well, since I love Malmo the city, I'm assuming I'd like Malmo the person. The adjective that springs to mind is unpretentious. She'd be laid back, attractive and like to socialize. But considering how windy the weather can be, I think she might also have quite a temper.
E-mail to a friend