(CNN) -- Whether you're looking for a laid-back evening or want to party the night away, there are plenty of bars and clubs in Malmo to keep you entertained.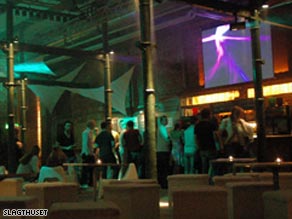 Slagthuset is Scandinavia's biggest nightclub.
Many nights start out in Lilla Torg, which boasts a wide array of restaurants and lounges. Sip cocktails at Victors -- if the weather's good, grab your drinks and head to the outdoor terrace. An equally popular hangout is nearby Moosehead, which has a more casual-woodsy vibe. Be sure to order the moose meat burger.
A vibrant club scene exists in Malmo, which is home to Slagthuset (Jorgen Kocksgatan 7A) -- the largest nightclub in Scandinavia. Young dancers spread out over three dance floors at the club located behind Central Station. As its name suggests, Club Prive (Malmborgsgatan 7) draws an exclusive crowd.
To chill in style, head to Torso Twisted (Vastra Varvsgatan 44) in the hip Western Harbor district. The restaurant serves gastronomic delights, and at night the lounge is decidedly cool. Indulge in one of the lavish cocktails or sample from the impressive wine list.
My City_My Life
Each month CNN visits the world's coolest cities with the celebrities who know them best.


You can also find the trendy set partying the evening away at Hipp (Kalendegatan 12). You can hang out in the restaurant or two bars or head straight to the pulsating nightclub.
Satisfy your thirst for beer at Tva Krogare (Storgatan 35). The pub dishes up traditional Swedish fare and you'll likely find locals playing a game of darts. For a taste of British in Malmo, try The Bishop's Arms (Norra Vallgatan 62). Located inside the Hotel Savoy, it serves staples like fish and chips and has a wide assortment of beers available.
If parties begin in Lilla Torg, they tend to end in Mollevangen. The bohemian neighborhood is dotted with bars that stay open well into the night. Prices in this area aren't as cheap as they once were but are still lower than compared to what you'll find in the city center.
Local musicians hang out at hip Tempo Bar and Kok (Sodra Skolgatan 30). For something a little different, try Chokladfabriken (Bergsgatan 33), a club housed in an old chocolate factory that plays mostly hip hop, funk and soul.
Malmo's passion for music makes it a great place to take in live performances. Kulturbolaget (Bergsgatan 18), one of the best venues for live acts, is a veritable Swedish institution. The club puts on about 220 rock concerts annually. Inkonst (Bergsgatan 29), a so-called culture house, puts on shows and club evenings. Jazz enthusiasts get into their groove at Jeriko (Spangatan 38), named such because it's housed in a former church.
....................
Malmo City Guide:
Where to stay | What to see | Where to be seen | Where to eat | Where to shop
Do you agree with our Malmo picks? Share your comments and suggestions in the SoundOff box below.
E-mail to a friend