By Grace Wong
For CNN





(CNN) -- Nina Persson has spent most of her life involved with music, but she's still reluctant to call herself a musician. "I'm still only a singer," the artist best known for fronting Swedish indie-pop band The Cardigans likes to say. "I still haven't bothered to learn an instrument."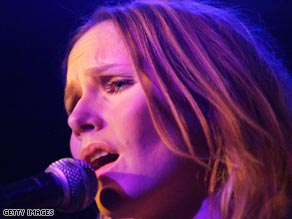 Nina Persson: "I'm still only a singer."
Persson was a bored teenager in the small town of Jonkoping, Sweden when she met eventual bandmates Magnus Sveningsson and Peter Svensson. "I was hired because they knew they wanted a girl singing," she told CNN. "We got along well, and I was willing to learn to sing. It totally saved my life."
Born in 1974, Persson loved music growing up, she says. But she never expected to make it a career, let alone become an international star. When she was recruited by The Cardigans, she was more into art and expected to become a painter or designer.
Joining The Cardigans changed her path. Shortly after forming in 1992, the five-person group moved to the coastal town of Malmo. (Persson says guitarist Svensson came up with the name for the band, drawing upon lyrics from a song by the British band The Sundays.)

Watch Nina take CNN on a tour of Malmo »
My City_My Life
Each month CNN visits the world's coolest cities with the celebrities who know them best.


Persson fondly recalls the early days of the so-called "collective" they set up. There were "lots of parties going on," she says about the single apartment the group shared. But the band was also hard at work and quickly gained a following in Sweden with their debut album "Emmerdale."
In 1997, the band got its big break, when the single "Lovefool" appeared on the soundtrack for "Romeo and Juliet," which starred Leonardo DiCaprio and Claire Danes. The song's chorus ("Love me, love me, say that you love me") became a pop anthem, vaulting The Cardigans to international success.
"Lovefool" received constant radio play and the music video for the song was played repeatedly on MTV. The album it was on, "First Band on the Moon," shifted more than 2.5 million copies and went platinum in the U.S.
Following a worldwide tour and the release of their fourth album, "Gran Turismo," The Cardigans took a break and Persson began working on side projects. She released an eponymous titled album under the name A Camp in 2001.

See Nina's career in photos »
The opportunity to exercise more control was one of the factors that spurred Persson to start A Camp. "It feels like it's a bigger freedom because I am in charge in A Camp. I like both. Both serve good purposes," she told CNN.
In 2001, Persson married American musician Nathan Larson. The two collaborated on lyrics for The Cardigans' sixth album, "Super Extra Gravity," in 2005 and he has been heavily involved in her latest A Camp album, "Colonia."
Persson has worked on a number of projects over the last few years. She appeared on a tribute album for Serge Gainsbourg in 2005 and featured on a Manic Street Preachers track in 2007. But A Camp has received the focus of her attention.

Where does the songwriter get her inspiration? The sources are endless -- from books and movies to politics and relationships. "There are a lot of worlds that you can channel through your music," she says. "I'm very emotional when it comes to the music. I want to make people cry."
She'll get her next chance very soon. "Colonia," is due out in late January. The album draws on historical imagery, and is described as having an air of "electricity, wig powder and laudanum." Stay tuned.
E-mail to a friend