(CNN) -- Planning a trip to Mumbai? Here are some tips to help you make sense of this vast, bustling city.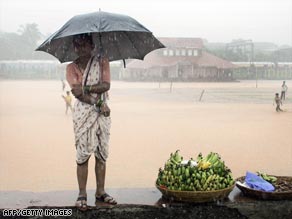 Rainy season in Mumbai lives up to its name.
Cross-town traffic

While all big cities suffer from peak period traffic jams, Mumbai's rush hour combines vehicular gridlock with barely contained highway anarchy.
And with the streets clogged with cars, buses and rickshaws the train system soaks up the overflow, leaving commuter carriages bursting at the seams.
To avoid a sweltering, frustrating and demoralizing experience, limit yourself to foot power during rush hour.
Whatever time of day you travel, air-conditioned taxis take some of the heat out of negotiating the cross-town traffic. Climate-controlled "Cool Cabs" can be recognized by their blue paintwork and silver roofs and can often be found congregating around the bigger hotels. When traveling by any kind of taxi you'll save time if you're armed with a map or directions to your destination.
If you want to experience Mumbai's traffic up close and personal a ride in a three-wheeled motorized auto rickshaw is just the thing. While they don't offer much in the way of comfort, or even a basic suspension, auto rickshaws do provide an exhilarating, if occasionally hair-raising, way of navigating the city.
Shree Siddhivinayak Temple

For a fascinating insight into Mumbai's devotion to the Hindu deity Ganesh take a cab to the Shree Siddhivinayak Temple early on a Tuesday morning. The temple is dedicated to Ganapati -- the local name for Ganesh -- the elephant-headed Lord of wisdom, good fortune and obstacles, and from 4.00 a.m. on Tuesdays more than 100,000 people queue for hours for a chance to ask him to grant their wishes. If you're short of time 50 Rupees will get you into the fast-moving VIP queue.
Don't Miss
There is a certain etiquette to be observed on a visit to Shree Siddhivinayak. As you approach the temple you'll see beggars, holy men and hawkers lining the street and you should take the opportunity to pick up some fruit, flowers or sweets to take to the temple as an offering.
Once inside you can present your offerings to one of the temple priests and whisper a wish to a statue of a silver mouse, which is said to carry your wishes to Ganesh himself. Be sure to dress respectfully, with your legs and shoulders covered.
Do you have any Mumbai tips? Let us know below.
Rain check

Between June and September each year, Mumbai is hit by the full force of the monsoon. These torrential rains cause chaos, flooding some areas and bringing the already congested traffic to a standstill. More than just an inconvenience, the rains can present a real danger to anyone who is caught up in them. To avoid the monsoon, and the stifling summer heat, visit Mumbai between October and April.
Wash out

Mumbai's municipal "dhobi ghats" form the world's biggest outdoor laundry. While that might not sound worthy of a visit, the "dhobi ghats" offer an unusual photo opportunity and a glimpse of part of Mumbai daily life that is at once mundane and truly bizarre.
Every morning dirty washing from all over Mumbai is collected by washer people, known as "dhobis," and taken to the "dhobi ghats," where it is scrubbed, pounded and boiled clean in open-air concrete tanks and barrels. The clothes are then starched, hung out to dry and pressed using wood-burning irons, before being returned pristine to their owners.
You'll be amazed by how smoothly this apparently archaic process runs. For a great view of the proceedings make your way to Mahalakshmi Road and be prepared for some bemused looks from locals, uncertain why visitors are so interested in their laundry habits.
E-mail to a friend