By Marnie Hunter
CNN






(CNN) -- The cruise industry's traditional peak season for promotions and bookings may be drawing to a close, but travelers ready to set sail are still in a good position for savings.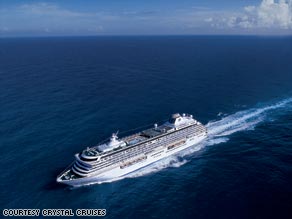 Luxury line Crystal Cruises is offering up to $2,000 per couple in spending credit.
Cruise prices have dropped lower than they did after the September 11 terrorist attacks, according to some travel professionals.
"There are so many incentives. The cruise lines are looking at the pricing, but then they're layering things like onboard credits along with discounts," said Annette Youngbauer, a certified travel consultant who owns six Travel Leaders agencies in metropolitan Milwaukee and Madison, Wisconsin.
Prices for high-season sailings to Alaska and Europe have been cut, four-night Caribbean trips are selling for as little as $149, and luxury lines are offering thousands of dollars in incentives.
The cruise industry is trying to stimulate business just like everyone else, said Ira Kaplan, owner of Cruise Holidays of Marlboro in Marlboro, New Jersey.
"For the cruise lines, they need to get the head in the bed. They need to get everybody on the ship," Kaplan said.
January and February are typically the crest of "wave season," the cruise industry's term for the first quarter of each year, when alluring offers and bookings peak. This year, some of those deals are lasting longer, and last-minute and early-bird deals are available at bargain-basement prices.
Although some of the inventory was snapped up this year during promotions that have since expired, Youngbauer said the cruise lines keep introducing offers pushing sailings with excess capacity. The best prices will go to the most flexible travelers, she said.
For freestyle cruising vacations booked by March 15, Norwegian Cruise Lines is offering up to $250 in onboard credit and fares starting at $99 for the third to eighth guests in a stateroom.
Carnival Cruise Lines has Early Saver deals for bookings made at least three months in advance, with summer three- or four-day cruises starting at $199 and similar fall sailings starting at $149 per person.
Alaska and Europe cruise fares are attractive right now, according to Youngbauer and Carolyn Spencer Brown, editor-in-chief of Cruise Critic, a Web site featuring cruise news, deals and reviews.
"We're seeing good deals for high season in places that we never saw deals before," Brown said. "It used to be, Alaska in July, you're never going to see that on sale in any kind of significant way. Now you're seeing Alaska in July on sale."
Cruise lines have boosted their capacity in Alaska in recent years, according to Youngbauer, and they are using aggressive pricing models to lure travelers.
Orbitz online travel agency is promoting a seven-night Alaska cruise on Celebrity Cruises starting at $649 per person for interior cabins on some July sailings and onboard spending credits for cruisers who book ocean-view rooms. The offer ends March 31.
Luxury cruise lines also are offering attractive discounts and incentives for Alaska and Europe.
Crystal Cruises has several ongoing Europe promotions, such as European Celebration fares of up to $1,500 off per person on most sailings of 11 days or more. Shipboard credits of up to $1,000 per person, depending on the category of stateroom, are also available on most of those sailings.
"This is the most aggressive promotion we've ever offered in Europe," said Mimi Weisband, a spokeswoman for Crystal.
A 12-day cruise from Barcelona, Spain, to Venice, Italy, in August is available for $5,300 per person -- less than half the brochure rate -- and each passenger will receive the onboard spending credits, Weisband said.
Despite the incentives, business is down.
"It's not going to be a record year for revenue," Weisband said. "But it is going to be -- it is a record year for consumers on what they can save."
Travel agents Youngbauer and Kaplan believe that their bookings are up, although revenue has dropped.

"You're working harder, but you're just making less," Kaplan said. "But this too will change."
So don't wait too long to make cruise plans.
E-mail to a friend