By Dean Irvine
For CNN





(CNN) -- Vancouver is regularly at the top of the world's most livable list of cities.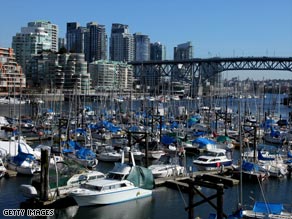 Too perfect? Vancouver boasts that it has it all, and many visitors will agree.
Winters generally don't get too cold (for Canada) and residents say if you experience the city in the summer you'll realize why its inhabitants exude a feeling of self-satisfaction and belief they do have it all. It's enough to have most other Canadians hate their smug West Coast cousins.
But visitors don't need to harbor any jealous thoughts: you can either grab a coffee (Local residents seem fueled by the stuff, but don't get things done any faster) and go all out trying to cram as much in as possible in a short visit, or be a bit more local and just take it easy, finding your own pace in the city.
Starting off in the city's downtown area you can work your way through various neighborhoods or head out into the great outdoors -- one of the city's main draws.
The proximity of the ocean, mountains, forests and islands to the city center make an excursion into "big nature" on a short trip not just possible, but probable. Public transport is efficient enough to be able to get you around town and into the nearby mountains.
The outward-bound nature of the place is happily countered by a laid-back vibe -- this is the West Coast after all -- where pockets of hippie counterculture exists with counterculture of the consumer variety.
If you have more time...
1. Explore Indian Arm and Mount Seymour park with a kayak
2. Head up to Whistler for some of the world's best skiing or mountainbiking.
3. Take a seaplane to Vancouver Island and then go whale-watching

Next to downtown Vancouver is Gastown, the city's historic area. Like many North American "old towns" it suffers for being a little too touristy, attracting day-trippers fresh off cruise ships. The turn of the century houses and cobbled streets are charming and the area is slowly shaking off its tourist trap image with more upscale bars and boutiques moving in to attract locals.

Vancouver has a rich mix of cultures and east of downtown around Pender and Carrall streets is the city's Chinatown. Worth a visit, it's the second-biggest Chinatown in North America, where you can sample sights, sounds and tastes more akin to Hong Kong than frontier Canada.

The area in between downtown and Chinatown is Vancouver's skid row, a scene of urban decay and poverty, so best to be avoided -- a reminder that there are still big city problems here.

Away from the Dr Sun Yat-Sen Classical Chinese garden and noodle joints, on the other side of downtown is Yaletown. The old warehouse district on the edge of False Creek has been gentrified with boutiques, coffee shops and restaurants and is a refined spot for a mid-morning coffee or bite to eat for lunch.

Gourmands would do worse than take a trip to Granville Island (it's really a promontory) and the public market place. Some of British Columbia's finest fresh produce as well as delicacies from across the world are housed in its covered market. Pick up some salmon jerky for a taste of real local flavor.

Post-prandial activity can vary depending on energy levels. Take a 15-minute water taxi ride from Granville Island to Bowen Island for a different scene and to enjoy a gentle stroll, or head to Stanley Park. It is just one mile from downtown and about 1,000 acres in size, so stick to the seawall path, where the cyclists, dog-walkers and roller-bladers roam, unless you want to make more of a day of it.

You'll also have some great views of the ocean and city. If the weather takes a turn for the worse while in the park, Prospect Point lookout or the aquarium offers some respite.

You can even feed otters at the aquarium, and if you've forgotten to book a hotel room for the night you can sleep with the fishes' (not in a threatening mafia way), but next to the Beluga whale tank, as the aquarium occasionally offers family sleep-overs.

The more adventurous spirited can head to Vancouver's north shore and the edge of the wilderness. Mount Seymour, Cypress Mountain and Grouse Mountain tower to the north of the city and are ski-able during winter months.

Hardcore locals do the "Grouse grind" daily during the summer -- a two-mile hike to the top of the mountain that can be done by mortals in reasonable shape in a few hours. At the top are rewarding views of Vancouver below, plus bears and wolves (in enclosures). For those wanting a more relaxed Grouse Mountain experience, a cable car ride can help you skip the exercise stuff.

A walk over the Burrard Street Bridge at dusk can offer some stunning sunsets, alternatively a sundowner the café towards the yacht club out past Jericoh Park is a more relaxed spot for taking in the setting sun.

If you want to delve deeper into the region's history and First Nation culture push on toward the University of British Columbia and the Museum of Anthropology.

Another anthropological experience can be had a nearby Wreck Beach, the city's famous nudist beach.

While the city's good for the outdoors stuff, its reputation as being laid-back with an excellent music scene and variety of places to eat remains intact.

If Yaletown is a bit to mainstream upscale for your tastes, Commercial Drive toward the east of the city is more culturally mixed with a hipster vibe and a number of live music bars and places to eat.

By English Bay lies Kitsalano, where skinny-latte-sipping yoga bunnies can be seen saluting the sun or dog walking during the day.

If you're fortunate enough to be here in the summer, Kitsalano is home to the city's annual summer Bard on the Beach season of al fresco Shakespeare plays.
Regardless of the season there are some excellent restaurants and bars to round off an evening -- Sophie's Cosmic Café is a no-frills local gem.
E-mail to a friend