By Olivia Sterns
For CNN





(CNN) -- Only seven miles squared, the city of San Francisco has a community feel that will draw you in, even in just 24 hours.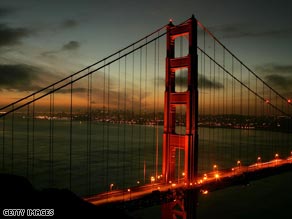 From dawn till dusk and into the tiny hours, San Francisco is a city where you'll find a host of unique attractions.
For the locals, life is all about getting outdoors, and early morning exercise is an essential part of the day. If you're arriving before dawn, head straight down to Ocean Beach and join the surfers for a brisk sunrise dip in the Pacific.
Alternatively, join the droves of joggers, roller bladers and bikers circling in the Presidio, the water-side park underneath the majestic Golden Gate Bridge.
After a workout, fill up on some of San Fran's delicious food. The city is full of desirable brunch spots, and Rose's Cafe over in the Cow Hollow neighborhood is one of the best. Order one of their "breakfast pizzas," prepared fresh every morning from local ingredients, and baked in their wood-burning oven. Grab a cup of coffee and enjoy your pie at an outdoor table on the sidewalk.
Next, get a sense for the city by hopping on one of San Fran's iconic cable cars, traveling toward Fisherman's Wharf. Be sure to hold on to the rail as you lean out of the trolley on the city's eerily steep hills.
At Fisherman's Wharf, stroll through street performers and adventure games (don't miss the bungee trampoline), as you make your way to Pier 39 and the incredible interactive aquarium.
Most mornings in the spring you'll still be able to find hundreds of sea lions barking and basking on a floating platform by the pier. By summer most will have migrated south for breading season -- but a few lazy animals will stick around.
From the pier, take a ferry ride over to the island of Alcatraz. Now a museum and national park, this notorious prison once housed the likes of mafia boss Al Capone. Listen to scary tales of criminals as you explore the insides of their former cells and walk down the infamous cement block hall.
If you have more time...
1. Drive up to Napa's scenic vineyards for a wine tasting
2. Rent a bicycle and pedal your way across the Golden Gate Bridge to Marin
3. Stroll the grounds of the palace of fine arts in Japantown.
Once back on the shore, grab some lunch from one of the stalls by the ferry. The just-caught Dungeness crabs and clam chowder can't be beat. Restaurants here tend to be a bit too touristy and you're better off picking up some of the fresh seafood and taking it with you as you meander further down the Wharf.
If you'd rather sit down, try Mario's Bohemian Cigar Store, just a few blocks south. There are no cigars at this long-time cappuccino bar, but they do make the best paninis in town. Finish with an espresso and some of their homemade biscotti.
After lunch, get a taste of the city's arts. The San Francisco Museum of Modern Art boasts an impressive collection of major works from Matisse and Georgia O'Keefe to Jeff Koons. Don't miss a special exhibit this spring of work by South African artist William Kentridge -- charcoals, sculpture, film and more.
Over at the De Young Museum, a landmark new building in the middle of Golden Gate Park houses several site-specific commissions, including pieces by Kiki Smith and Gerhard Richter. The bulk of the collection focuses on American Art from the 17th to the 20th centuries. This spring features a special Andy Warhol exhibition.
In the late afternoon head over to Pacific Bell Park, home to the San Francisco Giants. Bake in the sun-soaked bleachers while you watch the city's beloved baseball team get in gear for spring training. Try a local draft beer or organic hot dog and enjoy the view over the bay from this open-air stadium. Major League baseball games start in mid-April.
Afterwards, be sure and grab a drink in the patio garden at Momo's, and watch the sun set over the hills of Marin County across the bay. Kids can enjoy the slides tucked inside the giant Coca Cola bottle next door.
In the evening catch a show. Beach Blanket Babylon is a must-see. This riotously funny musical revue consists of a series of ever-evolving skits that spoof pop culture and San Francisco customs, and are performed in outrageous cabaret costumes.
Northern Californians swear they make the best Mexican food over the border. So for a casual dinner try heading over to the Mission for a burrito at La Taqueria. For delicious, upscale Mexican try Mamacita. The plentiful supply of fresh fish makes sea bass or tuna tacos an excellent choice.
If you have clients to impress, take them to Alice Water's famed Chez Panisse. This Michelin-starred bistro is a favorite among the Berkeley set. Just be sure to call for a reservation weeks in advance.
For post-dinner drinks head down to the Marina. Most nights, the streets of this bustling neighborhood are full of bar-hopping, post-collegiate revelers. Try the chic new Nectar Wine Lounge on Steiner Street, or for authentic, stiff margaritas check out La Barca on Lombard Street.
If you've made it to the early hours of the morning and you're still looking to rage, jump in a cab and head to the dance clubs in SOMA. One of the city's classic parties that also occasionally hosts live music is 330 Ritch Street, recent acts include The Killers and Lily Allen. Nearby, one of the city's friendliest gay-scenes can be found at The Stud, where drag queens and live DJs take turns making you laugh or dance till you hit the floor.
Springtime features several colorful celebrations. From April 23 to May 7, the San Francisco International Film Festival descends on the bay.
On May 5, the Mission District hosts a wild, all-night party with live music and dancing in the streets to celebrate "Cinco de Mayo".
E-mail to a friend