By Mark Tutton
For CNN






(CNN) -- Neil McCartney is 31 years old and has lived in Johannesburg nearly all his life. He is a photojournalist for Johannesburg newspaper The Citizen, and has a blog showing his images of the city.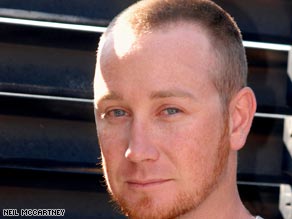 Neil McCartney: "Not everything's fixed, but things are looking up."
CNN: What's it like working as a photojournalist in Jo' burg?
Neil: It's cool -- you've got really rich areas like Sandton very close to poor areas like Alexandra, so you get to cover first-world country-type events and you can also go to protests and other gritty stuff.
It's a cosmopolitan city with a lot of different areas that all have a different character.
CNN: How is Jo' burg shaping for the World Cup in 2010?
Neil: There's a nice vibe arriving about the World Cup and for the Confederations Cup, which is happening in June. A lot of people thought they would be a flop but now people are starting to believe it's actually going to happen.
The Soccer City stadium close to Soweto looks nearly done and it's looking good -- it just needs the infrastructure around it to be finished. The area near the Ellis Park stadium used to be very downtrodden but it has been upgraded.
CNN: Is there a lot of work being carried out in the city?
Neil: There's a lot of improvements being done as we speak, not just for the World Cup but for the long term.
My City_My Life
Each month CNN visits the world's coolest cities with the celebrities who know them best.


They're fixing all the highways, so the traffic is horrendous at the moment. It's brutal right now, but the highways have always been bad, now they're fixing them with a view to improve them.
Also they're building a high-tech train system that will link Pretoria to Johannesburg and Sandton. It's a high-speed train that goes underground, which is new for Johannesburg -- we've never had anything like that before.
I was dubious when I first heard about it because of allegations of corruption, but I've been underground and seen the work and I've changed my mind. It's going to be a very good thing for the city.
What makes Johannesburg special to you? Let us know.
CNN: What do Jo' burgers like to do in their free time?
Neil: It's a very sporty place -- there's lots of road running and cycling. People spend a lot of time outdoors simply because the weather's pretty decent.
Like anywhere, younger people go clubbing and drinking. There's a lot of nightlife around Rivonia, which is part of Sandton. That area has whole boulevards dedicated to nightclubs and pubs and there are also clubs and pubs in Melrose Arch.
CNN: What don't you like about living in Jo' burg?
NM: There's a lot of corruption in various forms, not just at the top level but in all areas. Even going to get a driver's license you come up against it.
I know corruption is a given in some other African countries but I think this country is kind of going that way.
Being a photojournalist I might pay more attention to it, but it's everywhere. There's cops trying to solicit bribes, people trying to bribe municipalities, that kind of thing.
CNN: We hear a lot about crime in Johannesburg. How bad is it in reality?
NM: Crime is pretty bad but the police are doing a relatively good job; they're going in the right direction.
I think the crime situation is overplayed in our media and the international media. It does happen, it is intense, but I feel the police are winning the battle, slowly but surely.
CNN: What do you think the future has in store for Johannesburg?
NM: I think the future is bright, simply because of all the construction. Things are getting fixed up. The World Cup is coming and people are really looking forward to that. And beyond that, the infrastructure created for the World Cup will have long-term benefits for the city. Not everything's fixed but things are looking up

CNN: If Johannesburg were a person, what would he or she be like?
NM: It would be resilient and strong. It's not an old city, so it would be a middle-aged man. He's been around and there have been some problems in his life, but he's tough and things are coming right.
E-mail to a friend