By Anouk Lorie
For CNN





TEL AVIV, Israel -- Tel Aviv celebrated its 100th birthday this spring, but this lively city on the eastern shore of the Mediterranean could just as easily be taken for a vivacious and confident 20-something.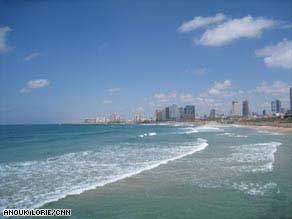 The White City or 'Miami of the Middle East'; find your own Tel Aviv on a brief visit.
The city's modernist architecture has UNESCO World heritage status, but the most distinctive feature of the shabbier, yet decidedly cooler "Miami of the Middle East," is its boisterous atmosphere.
Tel Aviv is also a city of fascinating paradoxes: a single sex religious beach lies adjacent to a gay beach; on the Jewish holiday of Passover, there is virtually no bread to be found in the city, yet many restaurants serve rather un-kosher pork and seafood dishes.
Still the best quality of Tel Aviv may be the locals. While they can come off rowdy or downright arrogant -- in Yiddish it's called "chutzpah" -- Tel Avivians are also known for their candor and openness. Over the course of a simple chat, you could be asked how much you make in a year or if you are up for a trance party over the weekend.
A classic analogy likens the local personality to the sabra fruit of the cacti that blossom around the city's outskirts; prickly on the outside, sweet on the inside.
Start your day at Tel Aviv's former port, called the Namal by locals, one of the most popular neighborhoods of the city.
Closed as a port in the 1960's and resurfacing in the 80's as one of Tel Aviv's trendiest hang-out spots, the Namal boasts dozens of restaurants, open-air cafes, shops and night clubs.
At night, young, hip Tel Avivians invade the area for a night of dancing at countless clubs and bars, but in the morning the Namal is quiet and the perfect place to have breakfast while gazing out over the sea.
"Concept" restaurant Comme il Faut offers delicious organic and light dishes for a healthy start to the day.
Don't Miss
If you are looking for a bit more substance to prepare for a day in the hectic city, head to Gilli's, a restaurant that prepares large, filling breakfasts.
From there, you can hire a bicycle at one of the Namal's rental stores and return it later across town. Cycling is a great way to get around with a wide pedestrian and bicycle lane running along the beach.
From the Namal, head south. The beaches on your right side are where tourists and Israelis alike spend much of their waking hours. Even at an early hour, you are likely to spot Frisbee throwers, surf boarders and kite-surfers lining the shores.
A few kilometers after the Namal is Banana Beach, named after its hip cafe, where you can stop for some sun and refreshments. On Friday afternoons amateur drummers gather for jam sessions.
From here, a short stroll or cycle will take you further south to Jaffa, the picturesque ancient port-city believed to be one of the oldest in the world and now home to a large number of Israeli Arabs.
Tel Aviv was originally created as a suburb of Jaffa, but the city quickly overtook its ancestor in modernity and practicality.
Yet Jaffa's charm lies in its timelessness; some of the structures date back 700 years to the Ottoman Empire. Here Jewish and Arab merchants sell beautiful objets d'art, old chairs and broken dolls, sitting side by side outside their makeshift stores and galleries.
One thing not to miss in Jaffa is Abulafia, a constantly busy over-the-counter bakery that sells delicious calorie-stuffed breads.
If you're still hungry, head to Puah, a scenic restaurant where everything from the chairs and tables to curtains and decoration has been purchased in the flea market. It's been said you can even purchase any of the restaurant's furniture to take home after your meal.
What do you think of Tel Aviv? Is it a Mediterranean gem or a muddled mix? Let us know using the "Sound Off" box below.
You can return your bike in Jaffa and walk or hop in a cab (they are everywhere, don't forget to ask for the meter or "moh-neh") to Neve Tzedek, an area founded in 1887 -- 22 years before Tel Aviv -- on land purchased by Aharon Chelouche, a prominent figure at the time in Jaffa.
Neve Tzedek is now Tel Aviv's most "artsy" area, with an atmosphere evoking a small artisan village. The classic neighborhood is home to some of Israel's most famous writers and artists.
The Chelouche family home has been turned into a beautiful museum with changing exhibitions.
Not to miss is the area's centerpiece, the Suzanne Dellal Center for dance and theater, an architecturally-pleasing host to some of Israel's world-renowned troupes and also a quaint place to stroll and have a coffee in one of its stylish cafes.
For a spot of shopping, next head to Shenkin street, where Tel Avivians shop for the latest trends. Don't expect high class, European-style boutiques. The fashion in Tel Aviv is laid-back and practical.
Nearby is the Nachlat Binyamin street, an arts and crafts market open on Tuesdays and Fridays, where you can find lovely hand-made presents.
When the sun starts to set head over to Tel Aviv's most beautiful street, Rothschild Boulevard, named after the famous French philanthropist Baron Edmond James de Rothschild.
The boulevard, with its large pedestrianized, tree-lined lane and outdoor coffee kiosks is home to a large concentration of Bauhaus buildings, an architectural-style that became Tel Aviv's trademark after Jewish architects who fled from WWII Germany used it in constructions around the city.
Tel Aviv's Bauhaus structures have earned it the name the "White City" and UNESCO World Heritage status in 2004. Meter for meter, Rothschild Boulevard is now the most expensive street in the city.
It's also a trendy place to been seen and a fine spot for dinner: Cafe Noir is said to serve the country's best schnitzel, but for a more laid-back atmosphere, head to La Champa, which serves mouth-watering Catalan food.
Nothing reflects the city's vitality as much as its nightlife.
To start your night on the town, head to the lively new bar Buba Mara, where music varies from 80's pop to Latino and hip hop. The atmosphere is fun with a crowd always dancing around the bar.
Most Israeli men and women spend at least two years fulfilling mandatory military service, and the minimum age of 25 in many bars reflects this. Rules seem to be bent for foreigners, however.

For real clubbing, head back to the Namal, where you'll have a wide range of choices. Whisky a GoGo or open-air Shalvata are popular choices.
Finally, for after-hour munchies as the sun rises back over the beach, head to nearby Benedict, a fun bistro open 24/7, which is, unsurprisingly, always full with people getting ready for another day.
E-mail to a friend