By Nick Thompson
For CNN






(CNN) -- It's supposed to be one of the most popular days in the Mexican calendar.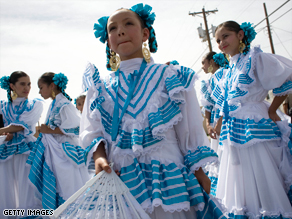 But with Mexico City a ghost town, and schools across the country closed until at least Thursday to prevent the spread of the H1N1 virus, the government has called off Cinco de Mayo celebrations nationwide.
The lingering specter of swine flu hangs over the typically jovial fifth of May -- and from New York City to Corona, California, cities across the U.S. have cancelled Cinco de Mayo celebrations as a precautionary measure.
The Mexican holiday marks Mexico's David v Goliath victory over French forces in the battle of Puebla in 1862.
Every year since, the anniversary has been marked with colorful parades, mariachi-filled concerts, and a reenactment of the battle in the city of Puebla.
U.S. President Barack Obama got a head start on Cinco de Mayo celebrations during an event at the White House on Monday, where he lauded the contributions of Mexicans to American culture, language, and religion.

He also praised Mexico's handling of the swine flu crisis.
However, swine flu or not, Cinco de Mayo celebrations were soldiering on in Los Angeles, Portland, and St. Paul, where organizers don't think the threat of the flu is enough to warrant the cancellation of festivities.
E-mail to a friend