(CNN) -- Boeing's 787 Dreamliner airplane is facing yet another delay, the company announced Tuesday, this time saying it needed to reinforce a section of the aircraft before starting test flights.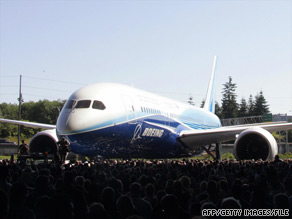 The aircraft manufacturer originally announced it would deliver the Dreamliner in May 2008.
The 787 is a medium-size plane that is expected to become the backbone of airlines' long-haul fleets, replacing the Boeing 767.
Boeing has not set a new date for the airplane's first flight, the company statement said.
"It will be several weeks before the new schedule is available," the statement added.
"Structural modifications like these are not uncommon in the development of new airplanes," Scott Carson, president and CEO of Boeing Commercial Airplanes, said in the statement.
The aircraft manufacturer originally announced it would deliver the Dreamliner in May 2008, and has delayed it at least three times before.
Airlines such as Qantas, British Airways and Continental intend to use the 787 to open up new "long, thin routes" -- long routes with fewer passengers than carried by the enormous 747.
At least 700 orders for Dreamliners were placed by the time it announced its third delay, in April 2008.
The delays mirror the problems that Boeing rival Airbus has had in delivering the A380 superjumbo, which suffered two years of delays and cost overruns before making its first flight in October 2007. The A380 and the Boeing 787 serve different needs for airlines, and so are not in competition with each other -- though both are the current stars for their respective manufacturers.
In January, Boeing reported it ended 2008 with 662 new net commercial airplane orders, giving it a backlog of unfilled commercial orders of more than 3,700 airplanes. While that was down sharply from the record 1,413 net orders in 2007, that year's orders marked the third-straight record year for new orders.
Boeing, one of the few employers that added workers through the nationwide labor market downturn last year, announced in January it will cut 4,500 jobs this year, undoing the employment gains it achieved in 2008.
The job cuts in Boeing's Commercial Airplanes division will take employment in the unit back to 63,500, about where it stood a year ago.
E-mail to a friend

All About Air Travel