WASHINGTON (CNN) -- United States accident investigators are probing two recent failures of airspeed and altitude indications aboard Airbus A330s -- the same type of plane that crashed into the Atlantic nearly a month ago.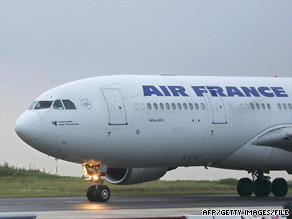 Investigators are looking into incidents aboard two other Airbus A330s.
The planes landed safely and there were no injuries or damage, the National Transportation Safety Board said Thursday. One flight was between the United States and Brazil in May and the other between Hong Kong and Japan in June.
The probes were launched in the aftermath of the June 1 crash in the Atlantic Ocean -- when Air France Flight 447 was flying to Paris, France, from Rio de Janeiro, Brazil. All 228 people on board the plane, an A330, were killed.
Investigators are looking at the possible role of airspeed sensors known as pitot tubes, among other factors, as a possible cause of the Flight 447 crash.
That flight sent 24 automated error messages in the four minutes before it crashed, the head of the French accident investigation board, Paul-Louis Arslanian, has said. The error messages all indicate there were problems with on-board information about the plane's speed, which can cause some of the plane's instruments to stop functioning, Arslanian said.
Search teams are looking for the bulk of the plane's wreckage and for its flight data recorders.
The first of the two incidents being investigated by the NTSB happened May 21, when a TAM Airlines flight from Miami, Florida, to Sao Paulo, Brazil, experienced a loss of primary speed and altitude information while in flight, the NTSB said.
"Initial reports indicate that the flight crew noted an abrupt drop in indicated outside air temperature, followed by the loss of the Air Data Reference System and disconnections of the autopilot and autothrust, along with the loss of speed and altitude information," the NTSB said.
The flight crew used backup instruments and the primary data was restored in about five minutes, the NTSB said.
Another "possibly similar" incident happened June 23 on a Northwest Airlines flight between Hong Kong and Tokyo, Japan, the NTSB said.
Investigators from the NTSB are gathering data recorder information, monitoring system messages, crew statements and weather information, the NTSB said.
E-mail to a friend

All About Air Travel • U.S. National Transportation Safety Board