By Paul Willis
For CNN





(CNN) -- Here are a few tips on separating truth from fiction in Los Angeles, the city of dreamers.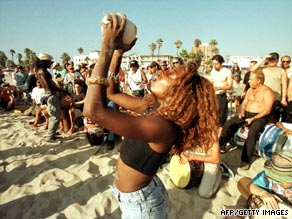 L.A. beaches contain a subculture all of their own.
Wander among the stars
If your hopes of catching a glimpse of one of those elusive celebs are dashed, then simply tip your gaze to the sidewalk.
The Hollywood Walk of Fame, that runs along Hollywood Boulevard and Vine Street, is home to 2,000 stars inlaid in to the ground to commemorate the great and the good of the entertainment world.
It's an eclectic mix with everyone from Ronald Reagan to Lassie getting a mention. Further down Hollywood Boulevard, look down again to see the hand and footprints of the movie world's glitterati immortalized outside Grauman's Chinese Theatre.


Watch Wolfgang Puck take CNN on a tour of L.A. »
The Museum of Jurassic Technology
Scientific fact and artistic fictions get curiously interwoven at this museum dedicated to the weirder side of life on Venice Boulevard. The institute's inspiration goes right back to antiquity and the original definition of a museum as a place "where man's mind could attain a mood of aloofness above everyday affairs." Although the name might suggest model T-rex's and pterodactyl bones, the museum actually holds an amazing array of natural wonders, including ants with spikes growing from their heads, and other oddities, such as an exhibit about the dogs sent into space by the Soviets.
See pictures of Wolfgang Puck's Los Angeles
My City_My Life
Each month CNN visits the world's coolest cities with the celebrities who know them best.


Catch some surf
No trip to the west coast would be complete without a visit to the ocean, and the beaches in L.A. offer more than just sun and sand. From surfing to beach parties to boardwalk entertainers, there's an entire lifestyle to be witnessed from behind those Ray Bans.
Visit the antique pier at Santa Monica beach complete with rides, arcades and old-style carousel. Or if it's natural beauty you're after head to Malibu, with its backdrop of steep mountains leading on to pristine beaches. There's great surfing to be had on some of Malibu's public beaches while west of Malibu pier you'll find a wetland filled with shorebirds, one of the last in California.

Ride Mulholland Drive
This famous route immortalized in the David Lynch film of the same name, gives great views back over the city, as well as being the location for some of the most expensive homes in the world. Jack Nicholson and Pamela Anderson live hereabouts though you may have to content yourself with views of the L.A. panorama.
Take the Mickey at Disneyland
Suspend all sense of cool, and plunge with a big cheesy grin into the schmaltz-fest that is Disneyland. The only one of Disney's theme parks to be designed, built and operated by Walt Disney himself, it's located in the southeast L.A. neighborhood of Anaheim. Experience the white-knuckle thrill of rides like Space Mountain and the Indiana Jones Adventure and then wander wobbly-legged through the ersatz wild west of Frontierland and down Main Street USA. And don't forget to bear hug Baloo.
E-mail to a friend