Los Angeles Film Festival (June 18 -- 28)
Since the Oscars are a closed shop to the general public, turning up in L.A. for the biggest night in the movie calendar -- unless you happen to be on the guest list -- is pretty much a non-starter.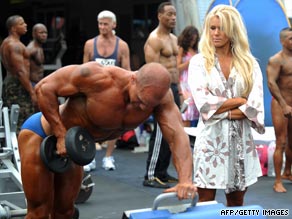 Don't miss the Mr and Mrs Muscle Beach competition on Venice Beach
If you're a film buff much better instead to hit town for the annual film festival, where you can delight at over 100 features, as well as star-studded premieres, seminars with industry bigwigs and outdoor screenings.
Mr and Mrs Muscle Beach Competition (July 4)
It may not seem the obvious way to celebrate America's emancipation from British colonial rule, but the annual Independence Day competition on Venice Beach is definitely a spectacle, and a unique slice of Americana to boot. Now in its 75th year, the event features bikini-clad women contestants as well as a plethora of Arnie Schwarzenegger wannabes all hoping to be crowned the golden couple of muscle.

The Long Beach Jazz Festival (August 7 -- 9)
What nicer way to enjoy a warm summer evening in the city than with the crash of the Pacific sounding on one side and melodious jazz on the other. The only jazz festival in Southern California, the Long Beach event is beautifully located on a grassy knoll overlooking a long sweep of lagoon. The festival begins at 5pm on the Friday and runs all weekend and features some of the top jazz artists of the year.
New Year's Eve Partying
If it's a New Year burnout you're after, they don't come any bigger than Giant Maximus, which claims to be the biggest end of year party in the world aimed at over-21s (the age limit for drinking alcohol in the U.S., obviously). Spread over a seven-acre site in the downtown, the event includes top DJs, acrobats, a psychedelic circus and a giant ferris wheel. In all 10,000 revelers gather under three air-conditioned big tops to usher in the next year surrounded by skyscrapers.
E-mail to a friend