By Paul Willis
For CNN






(CNN) -- Mark Frauenfelder is a writer, illustrator and sometime ukulele player. The 48-year-old moved to Los Angeles over 20 years ago with his wife -- a native of the city -- to work as an editor on the technology magazine Wired and went on to co-found bOING bOING magazine.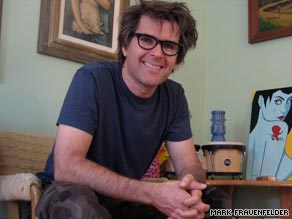 Mark says it's impossible to get bored in the world's entertainment capital.
Today, he divides his time between running the Boing Boing blog, a hugely popular L.A.-based culture and technology blog, and raising his two daughters.
CNN: What is the greatest thing about L.A?
Mark: I love the endless supply of surprising neighborhoods, restaurants, stores, hiking trails, artists, writers, and oddballs here. It's impossible to get bored. I have a long list of places to see and things to do here, and even better, I know that there are places to see and things to do that I don't know about yet.
CNN: And the worst?

Mark: My greatest pet hate is the traffic on the freeways of course. But since I work from home, I don't have to drive during rush hour so I have it better than a lot of people.
CNN: Describe a perfect L.A. day and night.


Watch Wolfgang Puck take CNN on a tour of L.A. »
Mark: My wife, two daughters, and I would wake up early, collect eggs from our chicken coop and make breakfast. Then we'd head out to Point Dume and collect sea glass and walk along the beach. After seeing what new treasures were for sale at my favorite store Coco's Variety we'd head over to Hugo's in Santa Monica for lunch where'd I'd break my low-carb diet and have Pasta Papa. Before heading home we might visit the tiny, odd Museum of Jurassic Technology and puzzle over the weird items on display there. At home, we would take a swim and rest before dining on molecular gastronomy cuisine at The Bazaar and catching a Buster Keaton feature at the Silent Movie Theatre.
My City_My Life
Each month CNN visits the world's coolest cities with the celebrities who know them best.


CNN: The architect Frank Lloyd Wright once said that if the world was tipped on its side then everything loose would land here. Is there still a place for the outcast and rebel in modern L.A.?
See pictures of Wolfgang Puck's Los Angeles
Mark: I think there will always be a place for the bohemian/outcast/rebel in L.A. We don't have to worry about the weather so we can endeavor to be creative all year long, instead of trying to stay warm six months out of the year.
CNN: L.A. is famous as the place many Americans love to hate. Is the reputation deserved?
Mark: Honestly, it doesn't bother me. If they knew the truth about L.A., they'd all move here and then it would be too crowded.
CNN: Do you have a couple of top tips for visitors to the city?
Mark: French dip sandwiches at Phillipe's, hiking in Runyon Canyon to see the flocks of feral parrots or a visit with your kids to the out-of-control petting zoo, The Farm (8101 Tampa Ave, Reseda, 818-341-6805).
CNN: On any given day, just how many celebrities do you bump in to?
Mark: Maybe one, but I don't go out of my way to look for them. Seeing Walter Koenig (Chekov in Star Trek) a few years ago at Art's Deli in Studio City was a special thrill for me.

CNN: Jim Morrison had his own vision of an L.A. woman, but if you were to personify the city what would he or she be like?
Mark: Happy and mysterious.
E-mail to a friend