By Marnie Hunter
CNN






(CNN) -- Stretching out on a crescent of powdery sand in Barbados doesn't come cheap, but there are ways to trim costs and put the friendly Caribbean island within reach.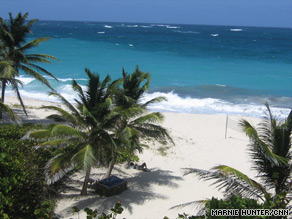 Bottom Bay, a sandy stretch on Barbados' south coast, is a picture-perfect spot for a picnic.
Located about 100 miles southeast of St. Lucia in the southern Caribbean, Barbados boasts a dramatic coastline on the Atlantic side and tranquil aquamarine bays on the Caribbean Sea. Watersports, golf, hiking, lush gardens and historic sites tied to sugar cultivation, slavery and more than 300 years of British colonial rule are enough to keep visitors busy for a week or more.
Here are a handful of money-saving tips for Barbados that can be tailored to suit many desirable locales.
Travel off-season
Traveling in the off-season is a gamble, but it's a sure way to lop hundreds of dollars off your trip total.
Peak season in Barbados runs December through April. Hurricane season starts in June and ends in October, although major storms tend to bypass Barbados, which is the easternmost Caribbean island and slightly apart from the Lesser Antilles archipelago. Still, travel insurance is a good idea.
Summertime highs run in the mid-80s, and humidity is high, but pleasant sea breezes and cool, clear waters keep the heat at bay. Rainfall is higher in the off-season and often comes in brief bursts, which locals describe as "liquid sunshine."
Rent a condo or house
Take a few steps back from the glittering resorts, save yourself a bundle and experience more of the island's true flavor with a villa rental.
Savvy shoppers can find two-bedroom villas within a few minutes' walk of popular west coast beaches for as little as $200* per night in the summer on vacation rental sites such as Homeaway.com and vrbo.com.
In December and January, when prices reach their peak, the same property may go for more than $400 per night. Still, at about $200 per room, it beats resort prices, and you get the benefit of a communal living space and kitchen. Some properties also have pools, housekeeping services and the option to hire a local cook for an additional fee.
The more affordable south coast is also a good choice for the budget-conscious. The east coast is spectacular, but rocky outcroppings and rough Atlantic surf make swimming dangerous.
Picnic and eat in
Slice a local mango, fry up some eggs and breakfast on your villa's patio. Then load a cooler with sandwiches and snacks and head to the beach.
Shop for dinner at the fish market in Oistins, Speightstown or Bridgetown for flying fish and other local catch, and experiment with the rich Bajan fusion of Caribbean, African, West Indian and European flavors.
Drink local
Forget martinis, set champagne aside. This is rum country. Mount Gay Rum, produced in Barbados since 1703, bills itself as "the rum that invented rum." The distillery's visitor center offers tours and tastings.
Tiny rum shops dot the island, selling the rich spirit by the shot or bottle at bargain-basement prices. Split a bottle among friends for a couple of bucks per person, and check out a cricket match on TV.
For a sunset view, try a scenic beachfront bar. Some offer happy hour rum drinks for $4 or less. Or take happy hour back to your home away from home, and get creative with the blender.
If you're rummed out, pick up a six-pack of local Banks beer for less than $6 at the nearest Super Centre grocery store, and pair it with tasty English cheddar (buy a huge 1-pound block for less than $4).
Take the bus
With blue and yellow buses whizzing by along narrow roads with minimal sidewalks, walking in busy areas can be somewhat terrifying. So why not get your thrills on the bus? For 75 cents, you can scoot over to Bridgetown for duty-free shopping or head to the Friday-night fish-fry in Oistins on the south coast.
Despite what seems like the rocket-fast speed of the bus between stops, it's probably going to take a while to get where you're going. So adopt island time and enjoy the ride. You may be lucky enough to land on a bus blasting reggae and soca dance music. Consider the proximity and frequency of bus service when selecting your accommodations.
To really explore the island, a car is a good idea, particularly for the gorgeous but remote northern and eastern parishes. Think about renting a soft-top Jeep or a Mini Moke -- an open-air beach buggy -- for a couple of days rather than springing for a full week's rental.
A two-day high season December rental at Drive-A-Matic, which has a rental office at Grantley Adams International Airport, runs about $175 for a Moke, including collision insurance and a temporary driver's permit. Look for free days and reduced rates in the summer months.

Whether you criss-cross the island or park yourself on the nearest sandy stretch, Barbados is worth the trip.
* All prices are in U.S. dollars.
E-mail to a friend

All About Travel and Tourism • Barbados