By Jen Lin-Liu





(Budget Travel) -- Welcome to a secret world. For nearly 500 years, the Forbidden City's fortified walls and 170-foot-wide moat protected the Chinese imperial family from fires, invaders, and nosy Europeans.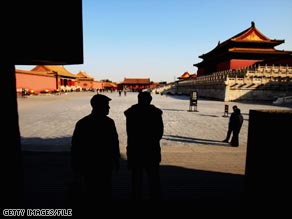 The Forbidden City served as the highly guarded headquarters for two dozen emperors and their clans.
These days, a new menace lurks outside the barriers: the wrecking ball. All over Beijing, ancient hutong, or alleyways, and traditional houses with tiled roofs and courtyards are giving way to state-of-the-art highways and skyscrapers.
Thankfully, the Forbidden City has not only dodged the bulldozer, it's been newly restored, from its charcoal-heated kang beds to its gold-lacquered banquet halls.
Completed in 1420 following a 14-year construction job that involved a crew of more than a million, the palace served over time as the highly guarded headquarters for two dozen emperors and their clans, many of whom rarely ventured beyond its shiny red walls.
Life here was so secretive that the only commoners allowed in were servants and guards, along with a large coterie of concubines and eunuchs. (As the personal attendants of the rulers, the eunuchs had what many Chinese considered the best jobs, and some became extremely wealthy.)
The imperial stranglehold on power came to an abrupt end in 1912 when revolutionaries stormed the Forbidden City and forced the emperor, 6-year-old Puyi, to abdicate. Some saw the downfall coming: During Puyi's coronation at the age of 3, he threw such a tantrum that Chinese nobility considered his rule cursed.
To visitors, the Forbidden City can seem every bit as daunting to navigate as a menu crowded with Chinese characters at a Beijing noodle restaurant. There are supposedly 9,999 rooms spread out over 178 acres, nearly half of which are open to the public. (The rulers of heaven were believed to dwell in a palace with 10,000 rooms, so the Forbidden City was built with one chamber less as a sign of respect to the gods.)
If you love dragon-shaped door knockers, hidden passageways, and imperial backstabbing, devote a full day to prowling the complex.
There are several different ways to dive in. After paying the entrance fee ($6 in winter, $8 in summer), the directionally challenged should consider renting an audio guide for $5 at the Meridian Gate, the main entrance to the inner city.
The machines use GPS technology to lead you on a two-hour tour highlighted by plenty of soap-opera-worthy dish. (In 1900, for instance, the ruthless Empress Dowager Cixi ordered the drowning of the emperor's favorite concubine, Zhenfei, in a well now named for the victim.)
Or you can hire a licensed English-speaking guide (groups of up to five pay about $30 for one hour, $60 for two and a half hours). Wandering on your own is also a fine option; there are signs in English throughout. And we've made it easy by zeroing in on 10 of the most intriguing sites (see our map here).
At day's end, 9,999,999 snarling dragons later, take in the view of the Forbidden City from the roof-top bar of the fabulously mod Emperor hotel next door (33 Qihelou Lu, 800/337-4685, designhotels.com, from $160). Perch on a chrome stool, sip a rice-wine martini, and bask in the clash between new and old Beijing.
GETTING THERE Round-trip flights between New York and Beijing cost about $920 on Continental. Beijing taxis are very affordable; a typical ride across town is about $3 to $5. You can also take the subway to the Tiananmen West or Tiananmen East stops for 40 cents.
WHAT TO PACK One of the best guidebooks on the palace is "The Forbidden City" by Antony White, a British art historian. It has an easy-to-follow map and the full scoop on the architecture, the objects, and the strict rituals of imperial life.
SOUVENIR A silk scarf adorned with ancient brush-stroke paintings found in the Forbidden City, available for $44 at the palace gift shop.
WHERE TO SPLURGE Treat yourself to dinner just steps from the Forbidden City at Maison Boulud, Daniel Boulud's new restaurant, located in the 1903 American Legation building, which housed the first U.S. embassy in China.
The four-course prix fixe menu includes duck foie gras, red-wine-braised short ribs with ravioli, and almond mousse for $63 -- a fraction of what you'd pay at Boulud's famous New York outpost, Daniel (23 Qianmen Dongdajie, 011-86/10-6559-9200, danielnyc.com/maisonboulud.html).
E-mail to a friend

Get the best travel deals and tips emailed to you FREE - CLICK HERE!
Copyright © 2009 Newsweek Budget Travel, Inc., all rights reserved.
Note: This story was accurate when it was published. Please be sure to confirm all rates and details directly with the companies in question before planning your trip
All About Travel and Tourism