By Marnie Hunter
CNN






WASHINGTON (CNN) -- Trinnette Morris and her group of girls followed in President Obama's footsteps when they stopped at Ben's Chili Bowl during a recent visit to Washington.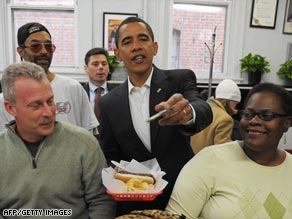 Barack Obama pays for a chili dog during a visit to Ben's Chili Bowl in January.
"I just put on my Facebook page last night that we're on Obama watch for the girls," said Morris, of West Palm Beach, Florida.
She was waiting for breakfast with her 9-year-old niece, her best friend and her friend's two young daughters at the landmark U Street restaurant -- one of the first places Barack Obama visited after arriving in the capital in January.
District of Columbia tourism officials hope the Obama family's presence in Washington will help boost visitor interest in the city, as destinations worldwide struggle with a drop in travel.
"Having a young, photogenic, African-American first family is really great for D.C.," said Bill Hanbury, CEO of Destination DC, the city's tourism organization.
"They're going to restaurants, they're going to sporting events, they're outside at the White House playing on their jungle gym. You know it shows D.C. as a real city, not just a city of monuments and memorials."

See photos of the president around town »
So far this year, hotel occupancy rates in the city are down less than in many competing markets, but how the capital city fares in the tourism downturn really will be determined as the peak season heats up.
To take advantage of public curiosity about what the first family is doing around town, Destination DC has posted an Obama itinerary on its Web site that features many of the local spots the president has visited.
If you want to explore beyond the typical presidential stomping grounds of the White House and Capitol, here are a handful of Obama-approved places you might want to check out.
Ben's Chili Bowl
Chili dogs may not figure prominently into the president's health-conscious diet, but President Obama has been spotted tucking into one at Ben's Chili Bowl.
Ben and Virginia Ali opened this neighborhood eatery in 1958 on U Street in then-segregated Washington. The U Street corridor was known as "Black Broadway" because performers such as Duke Ellington, Miles Davis and Ella Fitzgerald played and socialized in local clubs and restaurants. The restaurant weathered neighborhood upheaval, decay and rebirth to celebrate its 50th anniversary last year.
On January 10, then president-elect Obama came into "The Bowl" with Washington Mayor Adrian Fenty and sampled the restaurant's signature chili half-smoke -- a smoked sausage served on a bun with chili, mustard and onions.

Watch the co-owner of Ben's Chili Bowl talk about Obama's visit »
Equinox
Want to celebrate your trip to Washington in high style? Take Michelle Obama's lead at Equinox, an intimate restaurant not far from the White House that features fresh mid-Atlantic cuisine.
On January 15, the first couple and a group of friends celebrated Michelle's 45th birthday at Equinox. The Obamas came in, Secret Service in tow, and ordered off the menu.
The first lady started with pan fried Rappahannock oysters with apple-celery root puree and caper butter. The president and first lady both had grilled strip loin with slow-cooked gold potato pave and cabernet wine jus.
"It was a lovely little three-course, nothing over-the-top-extravagant, nice meal," said Ellen Gray, who owns the restaurant with her husband, chef Todd Gray.
Washington Wizards Game, Verizon Center
You don't have to be a huge sports fan to take in a little excitement at a professional basketball game. In February, the president watched the Washington Wizards defeat his hometown Chicago Bulls at the Verizon Center.
Equinox's Gray sat in a box behind President Obama at the game.
"We had more fun watching him than the game, I think," she said.
"He was having a beer and he was so cool and he was sitting next to this little kid. I think the kid was coming unglued, he was like 'Oh my God, President Obama is next to me.' "
The Wizards are wrapping up their season next week, but next year's Wizards-Bulls matchup might yield another presidential sighting.
The Kennedy Center
Ready for some entertainment? Follow the first family to the Kennedy Center for the Performing Arts, where they saw a performance by the Alvin Ailey dance company in February.
"It wasn't announced, but when he came in it was as if a rock star had entered the building. It was loud, everybody was cheering," said Kennedy Center spokesman John Dow.
In addition to a full schedule of world-class acts, the Kennedy Center is the site of free one-hour performances every day at 6 p.m.
The Hay-Adams Hotel
If you're looking for a posh place to lay your head, consider the Hay-Adams Hotel in Lafayette Square across from the White House. The Obama family stayed in the hotel before moving into Blair House before the inauguration.
The hotel, which opened in 1928, was built on the site of homes that belonged to John Hay, President Abraham Lincoln's private assistant who later served as secretary of state, and Henry Adams, a respected author and descendant of presidents John Adams and John Quincy Adams.
If rates starting at more than $300 a night are out of range, consider checking into Off the Record, the hotel's elegant bar, for a cocktail and a snack. Or have an executive breakfast at The Lafayette overlooking the White House.
Obama pajamas are another festive substitute for the presidential suite. Inauguration Station, a sliver of a shop on Georgetown's M Street, has been selling unique Obama-themed souvenirs since mid-January.
The shop's owners are still selling items such as The Audacity of Soap bars ($10) and Obama pajamas ($39.50), so they're keeping the business going.
While bumping into the commander-in-chief is unlikely, experiencing local venues on his heels provides a glimpse into life in the nation's capital.

As for Trinnette Morris' Obama watch: No presidential encounters for her young travel companions.
"We didn't track down Obama," Morris said via e-mail after her trip. "But [we] had a great time making the girls think we could."
E-mail to a friend

CNN's Lauren Kornreich contributed to this report.
All About Travel and Tourism • Barack Obama • Michelle Obama • Obama Girls