By Eileen Ogintz
Tribune Media Services





(Tribune Media Services) -- The goofy underwater shots of my husband and much-younger son grinning behind their masks always make me smile -- just the way a vacation photo should.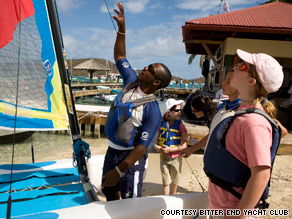 Young visitors learn to sail at the Bitter End Yacht Club in the British Virgin Islands.
We were in the British Virgin Islands where the two had just completed the requirements to become certified scuba divers. In the years since, they've dived different places together and separately. But that photo -- framed in our family room -- reminds me of what vacations with the kids should be -- an exploration of new places and a time to share experiences together.
And this summer, whether you want to learn to dive with your tween or snorkel with your kindergartner, teach your grade-schooler to sail or fly on a trapeze, you'll find plenty of opportunities at Caribbean resorts -- at prices that are surprisingly affordable.
"The deals we are seeing in the Caribbean right now are unprecedented," says John Israel, Orbitz.com's Caribbean regional director. "There may have been similar deals post-9/11, but the breadth and depth of the offers right now really are the best we've seen in terms of value region-wide: Resort and spa credits, food and beverage credits, free nights and nightly discounts on vacation packages that amount to a 'fly free' credit.
"We're also seeing up to 65 percent to 70 percent off per night at many Caribbean hotels," he adds. And families can "save bundles" by booking a package that includes air and hotel together.
The fact that tourism is down significantly -- as much as double digits to some islands -- means that consumers have their pick of deals -- and balmy weather, too, promises John Glynn, of the Bitter End Yacht Club in the British Virgin Islands where kids spend the week learning to sail on the most extensive fleet at a Caribbean Resort -- more than 100 boats -- and rates are a third off 2008 prices.
"That would take one back about 10 years to find similar pricing," Glynn says, adding that typical summer weather is 85 degrees, with lighter winds than in winter, and little worry about tropical storms until mid- to late August (though it is always prudent to get travel insurance just in case). "Great snorkeling and scuba weather ... and the fishing's fantastic!"
Don't Miss
Travelocity's senior editor, Genevieve Brown, notes that airfare to the Caribbean is down -- even from last summer. You might find it easier to trade in your frequent flier miles this summer, too.
"Seek out the 'newbies,'" suggests Travelzoo.com's Gabe Saglie. "The downturn in the economy has coincided with the grand opening of new, multimillion-dollar resorts in spots throughout the Caribbean and these resorts have an especially time-sensitive incentive to lure new travelers, and families are among the most sought-after."
That includes Costa Rica, only three to four hours from most major airports in the eastern United States. Plus airfares are at historic lows ($350 to $550 this year) with so much new vacation inventory that a family can rent a 2,000-square-foot, three-bedroom condominium with washer, dryer and fully equipped kitchen in a major resort for under $300 per night.
I also like the package at the Lost Iguana Resort & Spa in Arenal that includes two rooms, zip line, volcano hike, a $500 spa credit and 10 hours of babysitting -- all for under $2,000 for a family of four for six nights -- nearly half off. Kids will love the hibiscus maze and moms can let go of the guilt and head to the spa.
If you want to learn to dive with your kids, those 16 and under stay and dive FREE at Captain Don's Habitat on Bonaire this summer, you'll receive either a complimentary, introductory scuba course or four open water dives. You can't beat the price -- just over $2,200 for a family of four in a two-bedroom/two-bath bungalow for a week, including breakfast, six dives and dive equipment.
Kids also dive free in the Cayman Islands -- part of the Cayman Summer Splash that includes free flights on Cayman Air for those 11 and younger, free entrance to many island attractions and free meals at many restaurants. Older kids will love the giant Black Pearl Skate Park.
Join a Sunsail sailboat flotilla with a support crew on hand to show you the destination highlights, organize fun regattas and host beach barbecue parties -- and get 20 percent off on select summer dates.
Look for other deals that include air credits to stretch your dollar farther on an island getaway. The U.S. Virgin Islands recently launched its Sizzlin' Sampler package, which includes a fourth night free at participating hotels, a $500 retail coupon booklet, $300 in air credit and other coupons.
This summer, in honor of Bermuda's 400th anniversary, book a four-night Bermuda getaway and get a $400 credit at a dozen participating hotels that can be used toward room charges, meals and resort activities.
With the Caribbean Vacation Stimulus Package, The Wyndham Rio Mar in Puerto Rico is extending two complimentary nights for every two consecutive room nights and is also throwing in a $100 food and beverage credit. The kids will love kayaking at night to the bioluminescent bay.
The San Juan Marriott Resort & Stellaris Casino, meanwhile, invites single parents to vacation with their kids with special "Quality Time" packages that tout 25 percent savings and a donation to a local charity.
If all-inclusives are your style (or maybe you'd like to try one) Club Med welcomes kids 15 and younger to stay for free -- one child per paying adult -- at Club Med Punta Cana in the Dominican Republic, as well as at some of the other Club Med properties -- a savings of almost $600 per child. Club Med has designated July Family Reunion Month with other special packages.
At the all-inclusive Viva Wyndham Resorts in the Bahamas, Dominican Republic and Mexico -- they offer circus lessons, too -- kids 12 and under stay, play and eat free all summer while those 17 and under cost just $30 a day -- and we all know how much teenage boys can eat.
Hotels.com's summer condo sale has made family summer travel more affordable -- and more comfortable -- with savings up to 30 percent on vacation homes and condos across Mexico and the Caribbean, as well as in the United States. Many are available for well under $150 a night.
Get free digs if you trade houses with a family hankering for city lights, or one who simply owns a vacation place they aren't using. You'll find lots to choose from at sites like www.homeexchange.com and www.homelink.com. Check www.hideaways.com for deals that offer free nights on villas in St. Martin and St. Croix.
Just make sure to keep that sunscreen handy -- and your camera, of course. You want to be able to embarrass the kids later with those goofy shots.
E-mail to a friend

(For more Taking the Kids, visit www.takingthekids.com, where Eileen Ogintz welcomes your questions and comments.)
Copyright 2009 EILEEN OGINTZ, DISTRIBUTED BY TRIBUNE MEDIA SERVICES, INC.
All About Family Travel • Travel and Tourism