By William Friar





(Budget Travel) -- Here's a snapshot of Panama's defining experiences: a modern capital on the canal, near-deserted islands, and trails for spotting wildlife and waterfalls. Get a sense of which ones fit your travel style and your budget.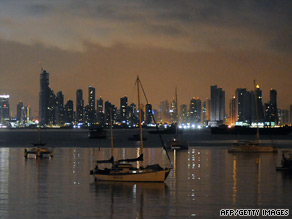 Gleaming skyscrapers highlight the modern side of Panama City, the most cosmopolitan city in Central America.
Follow the path of conquistadors and miners
Panama City is three cities in one: the conquistador-era Old Panama; the colonial quarter of Casco Viejo; and the modern capital, a forest of gleaming skyscrapers that's easily the most cosmopolitan city in Central America.
Among the ruins of Old Panama, razed by the pirate Henry Morgan in 1671, the centerpiece is the cathedral tower. It's one of Panama's proudest national monuments, and thanks to a recent restoration, visitors can climb to its top for the first time in 355 years.
The city was rebuilt on a small peninsula five miles west of its original site. Known today as Casco Viejo, the second Panama City is a maze of Spanish- and French-colonial buildings that includes the Museo del Canal Interoceánico de Panamá, which tells the story of French and American efforts to build the Panama Canal.
Restaurant Las Bóvedas is built right into the stone vaults of Casco Viejo's seawall; below it are dungeons where Spanish conquistadors allegedly drowned their prisoners at high tide. The restaurant's French-inspired dishes are pricey; the same spooky atmosphere pervades the bar (011-507/228-8058).
Not far from Panama City is a section of the Las Cruces Trail, built around 1530 by the Spanish to transport treasure looted from the Inca Empire across the isthmus. Their two main forts on the Caribbean side, San Lorenzo and Portobelo, endured 200 years of pirate attacks.
Encroaching jungle is attempting to complete what the pirates started, but their partially restored ruins still guard the now-silent coast. Portobelo is easy to get to by public bus, but visitors to the more remote San Lorenzo need to either rent a car or hire a guide with one. Budget Travel: Which Costa Rica is right for you?
The Las Cruces Trail was revived as an important route in the 19th century, when forty-niners used it during the California gold rush. The route proved so popular that entrepreneurs built a railroad across the isthmus to speed up the journey.
Its descendant is the Panama Canal Railway, a comfortable and extraordinarily scenic way to travel from ocean to ocean in about an hour ($22). There is only one passenger train each weekday, leaving Panama at 7:15 a.m. and departing from Colón at 5:15 p.m. The train ride is an event in itself, but once on the Caribbean side, several attractions are a short taxi ride away, including the mile-long Gatun Locks.
For many, a transit of the Panama Canal is the trip of a lifetime, a chance to experience one of the great human achievements of the 20th century and see the progress on its multi-billion-dollar expansion for the 21st. For those already on the ground in Panama, a day trip is easily arranged for a tiny fraction of the cost of a cruise. Panama Marine Adventures and Canal and Bay Tours offer partial canal transits on Saturdays ($115). One Saturday a month they offer full canal transits ($165).
When to go
Panama has two general seasons, rainy and dry. The dry season lasts from mid-December to mid-April and is Panama's summer, when schools are out, prices are higher, and hotels are fuller.

Panama is especially beautiful at the beginning of the dry season; late in the dry season the foliage turns brown.

For most of the rainy season, storms blow through quickly, leaving much of the day and evening clear. Only those planning serious jungle hikes or backcountry drives should be too concerned about the rain.

Rain tends to be heaviest and last the longest toward the end of the rainy season, in November and early December. However, there is some regional variation.

Surf or dive on a deserted beach

Panama has two oceans, 1,500 miles of coastline, and hundreds of islands. In other words, it's easy to find a deserted beach. Surfers and sunbathers favor the archipelago of Bocas del Toro for its bohemian party scene and wide expanses of white sandy beaches. Accommodations include dorm beds for $10 at the backpacker paradise Mondo Taitu, and quieter private rooms at the spotless Hostel de Hansi for the same price (011-507/757-9085).

The most famous surfing spot is Playa Santa Catalina, which has one of the most consistent breaks in Latin America and wave faces that can reach 20 feet. Its growth as a tourist destination has made Panama's largest island, the remote Isla Coiba, accessible to budget travelers because it is only about an hour by boat away from Santa Catalina.

The waters off Coiba are spectacular for scuba diving and snorkeling -- the second-largest coral reef in the eastern Pacific Ocean attracts 760 species of fish as well as larger sea creatures such as humpback whales, orcas, manta rays, and sea turtles. Coiba Dive Center and Scuba Coiba offer excursions starting at $55 per person for a full-day snorkel trip. Other more informal operators offer boat trips to Coiba.

Kuna Yala, also known as the San Blas Islands, is a Caribbean archipelago of nearly 400 coral islands and the home of the Kuna, arguably the most intact indigenous society of the Americas. A visit is memorable as much for the chance to meet the Kuna as for the chance to swim in remarkably clear waters and lounge on palm-covered desert islands.

The best of the low-end places is Hotel Kuna Niscua, a tidy, well-cared-for little place on the island of Wichub-Huala. Rates are $50 per person for a room, a daily boat tour, all meals, and transfers to and from the airstrip.

Go in search of birds and waterfalls

Starting east of Panama City and extending all the way to the Colombian border is the Darién, one of the world's last great wildernesses. It should top any adventurer's list. The most pristine spots are accessible only by chartered plane or guided trek, but there are cheaper options.

Burbayar Lodge, for instance, is in the middle of a forest on the western edge of the Darién -- and about 50 miles from Panama City. It has some of the best birding in eastern Panama, with more than 300 species identified near the lodge. (Panama has nearly 1,000 species, more than the United States and Canada combined.) Round-trip transfers from Panama City, accommodation, all meals, and a daily guided hike along the continental divide is $190 per person for the first night, $155 for subsequent nights at Burbayar.

The mountains of western Panama offer considerably cheaper but equally pleasant lodging for hikers, wildlife watchers, and waterfall seekers. These include the charming Hostal La Qhia in the little-known mountain town of Santa Fé and the Lost and Found Lodge Eco Resort and Finca la Suiza, both of which are just off the Fortuna Road, a famous bird-watching destination.

Prices top out at $55 for a double room at Finca la Suiza, which has extensive private, well-maintained mountain trails crisscrossed with hidden waterfalls. It can get surprisingly cool up here -- 57 degrees Fahrenheit at the highest points along the Fortuna Road -- and it's a delight to step out of protected forest to see panoramic views of the lowlands and ocean. More than 1,000 plant species have been identified in the Fortuna Forest Reserve alone.

All of these spots are near the Continental Divide, which appeals to nature lovers because they have access to both Pacific and Caribbean flora and fauna.

Western Panama is the most mountainous part, but it's not a land of towering peaks -- by far the biggest is the 11,400-foot Volcán Barú, a dormant volcano. There are plenty of accessible hiking trails, and non-hikers can have a Blue Lagoon moment just off the Fortuna Road by getting off the bus or parking the car at kilometer marker 67. At the bottom of a short path is El Suspiro, a rarely visited 100-foot-tall waterfall at the end of a narrow box canyon.

In the western highlands, the town of Boquete is known for its mild weather and gourmet coffee. Bird watchers, hikers, and the high-adrenaline set visit to search for the resplendent quetzal bird or climb Volcán Barú, from the top of which it's possible to see the Pacific Ocean and Caribbean Sea at once.

Other attractions around Boquete include world-class white-water rafting, the longest zip line ride in Panama, and rock climbing on a column-like basalt formation called Los Ladrillos, just outside of town.

Insider tips

1. Panama uses the U.S. dollar as its paper currency, known locally as either dolares or balboas. Panamanian coins are nearly identical to and are used interchangeably with U.S. ones.

However, some U.S. credit and debit cards have begun charging a foreign transaction fee of 3 percent or more for purchases and ATM withdrawals made in Panama. Check your card's fine print and apply for a new card without these fees if necessary. Travelers' checks are not easy to cash in Panama.

2. Panama has lots of microclimates, so peak season may not be the best time to visit your destination. For instance, in Bocas del Toro it's usually drier in the rainy season month of September than during Panama's official dry season, but prices are still lower, the islands are less crowded, and there's a chance of seeing nesting sea turtles.

3. Tourist taxis, identifiable by license plates that begin with SET, lurk outside Panama City's tourist spots and upscale hotels. They're more comfortable than regular taxis, but they're authorized to charge several times the normal fare. For a cheaper ride, walk down the block and hail a street cab, of which there are thousands. Taxi drivers in Panama are generally reliable characters, though many drive like maniacs -- the norm for Panama motorists unfortunately.

4. Panama is a rather formal country, so reserve the shorts and flip-flops for the beach. Some establishments will turn you away, and others will assume you're a disrespectful, clueless foreigner and treat you accordingly.

5. So-called Panama hats are actually from Ecuador. You can find them in Panama, but they're not genuine souvenirs.

6. It's a big hassle to drive a rental car in Panama City, and not necessary. Taxis and buses are cheap, plentiful, and safe.

7. If you want to cover a lot of ground, avoid visiting Panama during national holidays, particularly around Christmas, New Year's, Carnaval (the four days before Ash Wednesday), and Semana Santa (the week leading up to Easter). These are festive times, which means everything shuts down.

Price index

• Bottle of Cerveza Panama, a locally brewed beer: 75 cents-$1.50

• Meal-of-the-day at a comida corriente (fast-food) diner, including meat, rice, beans, and salad: $2.50-$3

• Mola (hand-stitched artwork made by Kuna women from layered, brightly colored cloth): $15-$25

• Average taxi ride within Panama City: $1-$2

• Average rate for a two-star hotel in Panama City: $45 (one or two guests)

E-mail to a friend

Get the best travel deals and tips emailed to you FREE - CLICK HERE!
Copyright © 2009 Newsweek Budget Travel, Inc., all rights reserved.
William Friar, who grew up near the banks of the Panama Canal, has written three Panama-related books, including "Moon Handbooks: Panama."

Note: This story was accurate when it was published. Please be sure to confirm all rates and details directly with the companies in question before planning your trip.

All About Panama • Travel and Tourism