By Eileen Ogintz
Tribune Media Services





(Tribune Media Services) -- Seen any ghosts lately?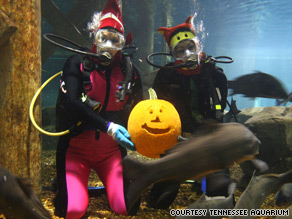 The Tennessee Aquarium in Chattanooga is hosting "Thrills, Gills and Chills" special events in October.
Now's your chance. Meet up with a vengeful ship captain and a villainous mutineer -- a true Nautical Nightmare -- at Mystic Seaport in Connecticut, and bring along children's socks to be donated.
Time travel back to the 18th century where you can get up close and personal with pirates and ghosts at Colonial Williamsburg in Virginia. "It was spooky and real," reported 12-year-old Coleman Woody of Brevard, North Carolina, who said the ghosts were the highlight of his trip to the recreated 18th-century city.
Meet ghosts who were lost at sea at the Newport Aquarium in Cincinnati, Ohio, or explore a haunted mountaintop at Ghoullog on Cranmore Mountainin New Hampshire. "Hunt" ghosts with paranormal investigators in downtown Tucson or hear a ghoul read a spooky story at Ripley's Believe It or Not! in Times Square (where kids get in free after 4 p.m. Mondays through Thursdays in October).
Encounter city ghosts on a Pike Place Market Ghost Tour in Seattle, Washington, or on a ghost tour in Norfolk, Virginia (was the real Jack the Ripper a Norfolk merchant?), or in historic Philadelphia, Pennsylvania.
Maybe your kids would rather spend the night with a ghost. (Go to bedandbreakfast.com and click on "sleep with a ghost.") The Kehoe House in Savannah, Georgia, for example, is thought to be haunted by the ghosts of twins who supposedly died playing in one of the house's fireplaces.
The Coach Stop Inn in Bar Harbor, Maine, is allegedly home to the ghost of a little girl named Abbee. There are even ghosts in state parks -- like at Punderson Manor State Park Resort in Northeast Ohio where guests often complain of noises coming from unoccupied rooms. With more listings on the National Register of Haunted Places than any other state, Virginia is good bet for Halloween too.
Don't Miss
Of course, you're busy with school and soccer and bosses demanding more from you, but that's all the more reason to grab your little (or not so little) ghosts and goblins and head out for some spooky fun this Halloween season, perhaps even hitting a pumpkin patch along the way.
Half Moon Bay, California, south of San Francisco, is the pumpkin capitol of the world -- 3,000 tons harvested every year -- and it offers every variety of pumpkin fun throughout the month of October -- pumpkin farms, pumpkin cycle tours, even pumpkin facials. And In Panama City, Florida, a new Scarecrow Festival will be going on all month.
The best news: Wherever you go, you won't have to bust the budget to do it. Whether you go for the day or for the weekend, www.hotels.com offers fall deals with up to 50 percent off at nearly 2,000 properties and many attractions have kids-free deals.
Look for special packages too. For example, Ohio's Cedar Point amusement park advertises weekend stays at Castaway Bay -- its indoor water park resort -- for just $79 a night and discounted tickets to the park's Halloweekends. Or drink witches brew and eat candied apples on weekends in October at the Nick Hotel in Orlando, Florida. Stay at Country Inns & Suites by Carlson and not only get a good rate, but a voucher for a free night you can use during the holidays and beyond.
New Orleans (is it the country's most haunted city?) -- offers a variety of deals, including a package from Marriott Hotels that includes rooms, breakfast for four and four tickets to the Audubon Insectarium (www.marriott.com, promotional code EB6) (Is there anything spookier than bugs?) Packages start at just $169 a night.
The John Carver Inn in Plymouth, Massachusetts, promises a ghost tour, corn maze, indoor water playground and rates that are 30 percent off on Friday nights throughout October.
You can be scared a lot or a little. According to the Haunted House Association, there are more than 300 attractions around the country that offer every variety of Halloween fun and fright -- generating more than $150 million in the process -- and their numbers are increasing. Eighty-one percent of those polled by the International Association of Amusement Parks and Attractions (www.iaapa.org/) said they were offering some sort of Halloween attraction this year.
Sea World's Halloween Spooktacular in San Diego, California, and Orlando, Florida, includes trick-or-treating, special sea lion and otter shows and even a Sesame Street "Countdown to Halloween."
Take the kids to California's Legoland any October weekend with safe trick-or-treating on the Brick-or-Treat trail complete with costume and dance contests and, of course, a giant LEGO pumpkin.
Not to be outdone, Disney World's Magic Kingdom is home to friendly ghosts and goblins at special after-hours "Not-So-Scary Halloween Parties" after the park closes. And with Disney's Armed Forces Salute, active and retired military personnel will get complimentary multiday admission and special ticket offers for families through December 23. Also, Disney.com just launched "Haunted Holidays," a new destination for visitors to enjoy new and exclusive videos, games and activities.
If you are looking for a way to get a hug from your tween -- or at least for them to hang close, take them to a big theme park Halloween extravaganza like Howl-O-Scream at Busch Gardens, Fright Fest at Six Flags or Universal Orlando's Halloween Horror Nights where you might be trapped by horror film characters come alive. Imagine being chased by the crazy "Chucky" doll or coming face to face with Dracula?
Too scary for your gang -- or you? Almost all zoos and aquariums hold Halloween events -- many lasting for several weeks, complete with plenty of treats. (Check www.aza.org to find one near your home.)
You can see a diver carve a pumpkin underwater at the Tennessee Aquarium, which boasts month-long "Thrills, Gills and Chills" special events, while the "Spooktacular" returns to the Bronx Zoo with October weekends complete with haunted hayrides and a Haunted Safari adventure. (Any child wearing a holiday costume will get in free!) In Miami, October is dubbed "Spooktober" at Miami Metrozoo, which offers a 7,000-square-foot haunted house.
Are you ready? I'll be the one in the biggest witch's hat.
E-mail to a friend

(For more Taking the Kids, visit www.takingthekids.com, where Eileen Ogintz welcomes your questions and comments.)
Copyright 2009 EILEEN OGINTZ, DISTRIBUTED BY TRIBUNE MEDIA SERVICES, INC.
All About Travel and Tourism