By Elizabeth Bailey, Geraldine Campbell and Yolanda Crous





(Travel + Leisure) -- The fluctuations in the economy may change a lot of things, but one thing that remains the same is the desire to explore new places and experience new cultures.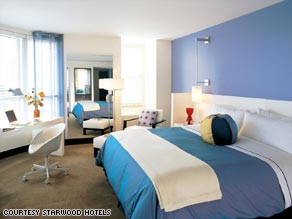 Through March, at select Starwood Hotels, every second night is half off.
It's just that now, when travelers set off on anything from an African safari to a weekend getaway, they're a bit more conscious about their spending.
Travelandleisure.com has come up with a can't-miss list of tips to save money -- both while planning and taking your trip.
1. Score hotel perks and deals
In an effort to increase their bookings, hotels worldwide are offering travelers significant deals. Fairmont Hotels, for example, has cut rates by as much as 20 percent at all 56 of its properties through April 15. Other brands, instead of dropping prices, are offering free nights and savings packages; some are even upping the ante by tossing in room upgrades, meals, and resort credits.
Through March, at select Starwood Hotels, every second night is half off, even at Luxury Collection, W, and Le Meridien. Hyatt, meanwhile, is running a Three for Free deal at 20 resorts, offering travelers a complimentary night, daily breakfast, and a room upgrade. Travel + Leisure: The world's best hotels
You'll find the greatest values in destinations such as Las Vegas, Hawaii, Florida, the Caribbean, and Mexico -- places where tourism plays a vital role and rooms need filling.
In Los Cabos, Mexico, $950 now buys three nights in a one-bedroom villa at Cabo Azul Resort, including round-trip airport transfers and a $100 spa or dinner credit. And Kona Village Resort, on Hawaii's Big Island, is offering a Run of the Village package that upgrades guests to the best room available, through August -- which means visitors who book a standard bungalow for $550 a night could conceivably end up in a $975 deluxe hale at no additional cost. Travel + Leisure: Caribbean hotels under $150 a night
2. Take to the waters
Cruises -- already known as a great value option thanks to their all-inclusive pricing -- are adding even more enticements. "Every cruise line is trying to make it easier and more cost-effective for people," says Carolyn Spencer Brown, editor-in-chief of cruisecritic.com.
Crystal Cruises is offering some of the best perks, such as stateroom upgrades and $2,000 discounts on penthouse rooms on some Asian sailings. Silverseas Cruises, meanwhile, is offering travelers who book before April complimentary airfare from 27 North American cities to departure points for 28 European/Mediterranean sailings in 2009. Travel + Leisure: How to choose your cruise
Booking early for a seven-day Mediterranean voyage on the Yachts of Seabourn can get you up to 45 percent off, plus a $500-per-person discount. Companies are also becoming increasingly flexible with purchase policies. Late last year, Disney, Windstar, Norwegian, and Crystal extended cancellation periods and reduced deposit amounts by as much as 50 percent.
SeaDream Yacht Club introduced a Cancel For Any Reason program, which lets you change your plans up to 48 hours before departure (for $50 per person), with the balance credited toward a future cruise.
3. Be loyal
Hotels are looking for your allegiance -- and extending extra incentives to gain it. Most loyalty programs, including those of Hilton, Hyatt, Marriott, Starwood, and Wyndham, have eliminated blackout dates for points redemption, so you can get free nights even during peak season.
Taking it a step further, the Starwood Preferred Guests club's new SPG Flights program lets you use points to purchase plane tickets for any day of the year --even during holidays such as New Year's and Presidents' Day. And with Hilton HHonors Point Stretcher Rewards, you can check in to participating hotels for 40 percent fewer points.
To make earning rewards easier, Wyndham ByRequest is giving out double points for every visit (up to four stays) through January 2009, and this spring Marriott Rewards is giving out 2,500 extra points per visit, starting with your second stay.
4. Go all-inclusive
To avoid sticker shock at the end of a trip, try turning to all-inclusive resorts, where meals, drinks, and activities are included in the rate. Travel + Leisure: How to find the best all-inclusive resorts
Luxurylink.com, which auctions and sells hotel packages to high-end travelers, has recently launched an entire section devoted to high-end all-inclusives. And no, high-end all-inclusive is not an oxymoron: upscale versions of traditional beachfront all-inclusive resorts have cropped up across Mexico and the Caribbean, from the modern Paradisus Palma Real Resort; five nights from $2,380, all-inclusive) in the Dominican Republic to the new Secrets Maroma Beach; five nights from $1,835, all-inclusive) on Mexico's Riviera Maya.
You can even go all-inclusive-style at an à la carte resort: guests on Fairmont Gold and Ritz-Carlton Club floors have access to spreads of food and drinks several times a day.
5. Sleep like a local
For significant savings -- and more square footage for your dollar -- consider staying in a privately owned apartment or house on your next trip. An increasing number of second-home owners are turning to vacation-rental companies like the Austin-based HomeAway and sites like vrbo.com, which lists more than 100,000 houses worldwide. Travel + Leisure: Seven steps to villa rental success
"We're seeing a lot more inventory this year, and fewer people traveling, so you're going to get good value," says Brian Sharples, cofounder and CEO of HomeAway.
We recently found a listing on vrbo.com for a two-bedroom condo at the Outrigger Palms in Wailea, Hawaii, for $260 a night. Meanwhile, the newly launched roomorama.com, a New York-based peer-to-peer rental agency, lists more than 300 apartments in New York, Boston, Chicago, and Toronto. (Users can vet accommodations using feedback from previous visitors.) At press time, a penthouse loft near Union Square with floor-to-ceiling windows was available for $189 a night.
House-swapping is also gaining in popularity thanks to the proliferation of sites such as homeexchange.com, intervac.com, and ihen.com, which charge annual membership fees in exchange for access to their extensive databases. The one caveat: you have to live in a desirable location yourself.
6. Follow the money
With the currency markets in flux, the dollar is strong again -- at least for the moment. Travelers looking to make the most of their money should keep an eye on global exchange rates.
It's been well reported that you can get the biggest bang for your buck in Iceland, and that after skyrocketing against the dollar in recent years, the euro is down some 20 percent. But you'll also find good rates in Hungary, South Africa, and Brazil, and the dollar recently experienced an all-time high against the Mexican peso.
London, which had become increasingly expensive for Americans, is 20 percent more affordable than it was a year ago. How long will the greenback remain strong? That's unclear. So if you have the option, prebook and prepay as much as possible to ensure you lock in a good exchange rate.
7. Stop hoarding your miles
This is the year to use all those frequent-flier miles you've been accumulating. With fewer people taking to the skies, your chances for redeeming miles could potentially increase. Flexibility is key, however.
"If you're committed to a particular destination, go in the off-season instead, and book either early or late," says Tim Winship, editor-at-large of smartertravel.com.
Most airlines start selling flights 330 days out, so using your miles as far in advance as possible increases the likelihood of getting an award seat. And if a flight isn't full approximately two weeks before departure, the carrier will turn to frequent-flier customers to help fill the plane.
A few other tips to keep in mind: when traveling to business destinations such as Houston or Atlanta, it's easier to book with miles on weekend flights; the opposite is true for vacation hot spots like Hawaii and the Caribbean. If you still can't find a seat, consider using miles to upgrade your ticket on longer flights: as business-travel bookings shrink in 2009, this should be easier than ever.

8. Fly business class
If you like to fly business class on international routes, there's never been a better time to book your ticket. Airlines are expected to slash these fares by as much as 70 percent this year, according to Rick Seaney, CEO of farecompare.com, a Dallas-based air-travel research website.
Although a round-trip business-class ticket from the U.S. to Europe typically costs between $4,000 and $6,000, at press time these rates had fallen to $1,760 from New York to Brussels on American Airlines; $1,680 from Chicago to London on Virgin Atlantic; and $1,200 from New York to Paris on the newly launched OpenSkies, in premium-plus class.
To get the best business-class fares, sign up for airline mailing lists and check travel industry websites such as farecompare.com and firstclassflyer.com.

9. Choose a package
Buying hotel, airfare, and car rental together from a third-party travel site such as travelocity.com, expedia.com, or orbitz.com delivers big savings. "Any time you opt for a package, you're going to save money," says Heather Leisman, senior director of merchandising for Orbitz.
It's the luxury properties that offer the biggest discounts through these packages. "They don't want to publicly announce price drops, so this is their way of hiding them," Leisman says.
At press time, we found an air-flight/car-rental package on Orbitz for five nights in a luxury-view suite at the Palazzo Las Vegas for $847 per person -- a savings of $828.
Today's packages are also more customizable than in the past, with online booking sites now giving you the ability to bundle as many or as few elements together as you'd like, including extras like spa treatments, theater tickets, and sightseeing tours. As a rule of thumb, the more you bundle, the more you save.
E-mail to a friend

Planning a beach getaway? Don't miss Travel + Leisure's guide to Affordable Beach Resorts.
Copyright 2009 American Express Publishing Corporation. All rights reserved.
All About Travel and Tourism