By Susan Stellin





(Budget Travel) -- Whether you call the practice à la carte pricing or nickel-and-diming passengers, the fees most airlines now charge for everything from food and drinks to checked bags aren't going away. With far fewer people flying because of the economy -- especially business travelers -- many carriers are counting on this revenue more than ever.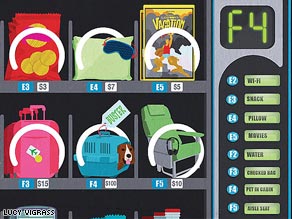 "The airlines are doing it because they can't raise fares," says Michael Boyd, president of aviation consulting firm Boyd Group International.
And the companies have found that add-ons can be very profitable. In fact, à la carte pricing has become so successful that analysts are predicting airlines may soon institute the even more nitpicky menu-pricing structure that's been helping Air Canada survive since 2004.
For all of its flights, Air Canada offers four fare options, each with a different set of extras, such as a free checked bag or an on-board food voucher. Customers can then add or subtract other services -- forgo frequent-flier miles and save $3, for instance, or pay $30 to access the airline's lounges.
For now, most carriers in the U.S. simply say they are sticking with the à la carte approach and considering tacking on more fees in the year to come. So what does this mean for passengers?
THE DOWNSIDES
It's harder to compare prices
Because fees vary from airline to airline -- and only a few companies, notably Southwest, still subscribe to the old-fashioned, all-inclusive approach -- it takes a lot of work to figure out the total cost of a trip on different carriers. And if every airline adopts an intricate menu of pricing options, that chore is only going to get more complicated. Budget Travel: Confessions of an airline agent
Travel booking and aggregator sites like Travelocity and Kayak are developing ways to display ticket prices that highlight extra charges, but the technology isn't expected to be ready until the end of 2009. For now, you're on your own to do the math. One resource can help: the free, up-to-the-minute guide to airline fees published on the blog SmarterTravel.com.
The gap between advertised fares and actual prices is widening
Nobody likes it when airlines promote tantalizingly low sale fares and then bury extras like taxes and security fees in the fine print. To keep consumers from being duped further, the Department of Transportation last May issued a directive requiring airline and travel-booking sites to disclose the possibility of additional baggage charges in ads and fare quotes.
Ads must also state when there are fees to book a ticket by phone. But there is one big caveat: Airline and booking sites aren't required to include those surcharges in the total price, so what you end up paying may not be anywhere near what you were quoted.
Air service could deteriorate, especially for budget travelers
European carrier Ryanair has taken à la carte pricing to the extreme, charging customers a per-minute fee to speak to a company representative on the phone -- even if you're a ticket holder calling to report a problem. While that practice would probably never fly in the U.S., analysts say the pay-as-you-go pricing structure could allow carriers to treat higher-paying passengers better than their penny-pinching seatmates.
For example, a person who goes whole hog and buys an in-flight meal, a headset and a pillow and blanket stands to get more attention and potentially better service from the cabin crew. This has always been the case in first class, but it's new to economy. "There isn't a business out there that doesn't take steps to keep its best customers happy," says Tim Smith, an American Airlines spokesman.
THE UPSIDES
Some people will save money by forgoing all the extras
If you book online, don't check a bag, and skip the meal, you're probably paying less than if the airlines had simply jacked up ticket prices. And according to a poll conducted last fall by Amadeus North America, a travel technology company, people are becoming more comfortable with à la carte pricing for that reason.
Fifty-three percent of respondents said they'd prefer to buy the lowest-priced option and then add services; only 18 percent would rather shell out for a higher-priced all-inclusive fare.
There may be more one-way tickets and deals on upgrades
When Air Canada implemented its new pricing structure, it also eliminated many travel restrictions that passengers hated, such as requiring a Saturday-night stay and a round-trip ticket to get the lowest fare. Air Canada now breaks down round-trip flights as separate one-way tickets on its Web site, showing you exactly what you pay for each leg.
While U.S. low-fare airlines such as AirTran and JetBlue also sell tickets this way, most major carriers do not. The advantage for passengers if this policy catches on: the ability to shop around for the best price for each leg of a trip -- even on different airlines.
Carriers like AirTran and US Airways are also experimenting with selling last-minute deals on upgrades, a practice likely to become more commonplace. For instance, AirTran offers passengers at check-in, at the gate, or on the plane the option of upgrading from coach to business class for $49 to $99 per flight.
Often times, that's cheaper than what it costs to buy a business-class ticket in advance. This means that travelers can decide not only which extras they want to purchase, but also when to buy them. So the next time you fly, take your time figuring out if you want to splurge on six extra inches of legroom -- a $5 movie might instead do the trick.
E-mail to a friend

Get the best travel deals and tips emailed to you FREE - CLICK HERE!
Copyright © 2009 Newsweek Budget Travel, Inc., all rights reserved.
Note: This story was accurate when it was published. Please be sure to confirm all rates and details directly with the companies in question before planning your trip.
All About Air Travel • Travel and Tourism