By Stirling Kelso





(Travel + Leisure) -- These days, it's not unheard of for hotels to charge $15 for a mini-bar diet Coke, $40 for access to the gym, or $45 for rush laundry service. (Alas, these are actual fees on T+L editors' receipts.) But there's good news ahead: the extra charges are expected to decrease by six percent this year as hotels and resorts compete to attract guests.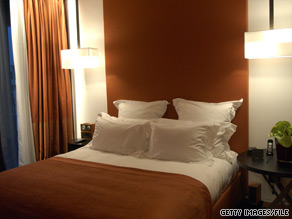 Hotels are constantly updating charges, so do your research to avoid getting hit with an unexpected fee.
That said, they aren't going away entirely. Here's how you can avoid sticker shock at checkout.
Do your research (and keep a record)
Most fees are explained in room handbooks or on the hotel Web site, but rarely are they brought to guests' attention. "Before you book, call a reservationist to ask about surcharges, and jot down his or her name," advises Dr. Bjorn Hanson, a professor at NYU's Tisch Center for Hospitality.
Use the Internet to your advantage
Often, third-party Web sites are more up-front about hidden fees than hotels' own sites. Tripadvisor.com highlighted a $30 second-bed charge at a top Seattle hotel, for example. (The hotel's Web site did not, however.) Travel + Leisure: Best new hotels of 2009
Remember that every property is different
City hotels typically charge per service, totaling up expenses at the end of your stay. Resorts, on the other hand, often have an umbrella "resort fee" -- anywhere from $12 to $26 per guest, per day -- covering costs for maintenance and services ranging from lawn care to parking. (Ask the reservationist what the fees include.)
Also, don't assume that all properties under the same brand implement standardized fees. Extra charges are usually tailored to each hotel's needs.
Be aware of new fees
With available amenities changing almost daily, hotels are constantly updating charges -- like $5 per hour for holding bags behind the front desk; $12 a day for Wi-Fi; and $1.50 per item for mini-bar restocking (in addition to what you pay for the beverage or snack). Even if you think you know which ones to expect, make sure they haven't increased or changed.
Don't be afraid to negotiate
Many fees can't be removed from your bill, but hotels may be willing to eliminate certain charges, such as the cost of valet parking at resorts. If you're a loyalty-program member or a repeat guest, ask for a daily flat fee for faxes and other services. Finally, make sure to get a statement of your bill the night before checkout. That way, you'll have plenty of time to examine it carefully.
E-mail to a friend

Planning a romantic escape? Don't miss Travel + Leisure's guide to the 50 Best Romantic Getaways.
Copyright 2009 American Express Publishing Corporation. All rights reserved.
All About Travel and Tourism