By Wayne Drash
CNN.com Senior Producer






COMO, Mississippi (CNN) -- Seconds after Barack Obama was declared the winner of the presidential election, the countryside of Como, Mississippi, erupted in celebratory gunfire.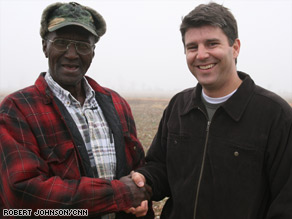 This handshake represents five generations: James "Little Man" Presley knew my great-great grandfather.
It was an impromptu party on the black side of the railroad tracks -- a joyous moment as African-Americans raced from their homes and fired into the air to celebrate the first black president in our nation's history.
I knew then that it was time to head back to my home away from home to do what I'd long wanted to do: Cross the railroad tracks to meet with blacks on the other side of town. To ask them about their lives, their struggles and what it's been like growing up black in Mississippi. And most of all, to ask them what this moment in our history means to them.
The unsung heroes of the civil rights era, to me, were the ones who I saw in my youth: The blacks of Como and the surrounding areas who remained behind, living quiet, unassuming lives when the odds were stacked against them. They worked their tails off, often for mere pennies, yet rarely complained. Grown adults would call me "sir," even if I was just 14 years old.

Watch grandson of slaves say, "Obama, he come up like me" »
On this trip, I returned to listen to their stories. I began each conversation with a simple phrase: Tell me about your life. From there, I asked questions like: How'd it make you feel to be called the n-word to your face? At what age did you first work the cotton fields? Did you have any formal schooling? What was it like to be barred from walking through the front doors of businesses? Did you ever sneak over to the "white" water fountains to drink the forbidden water?
These are things that aren't talked about enough, because quite simply it's painful, no matter which side of the tracks you're from. But once I started asking questions, the stories flowed. Everyone seemed honored and humbled that a white man -- a local boy working for CNN, no less! -- took such an interest in their lives. Most knew me as a boy. If they didn't know me directly, they knew my grandparents, great-grandparents or great-great grandparents.

Meet James "Little Man" Presley up-close »
Let me tell you about Mary Dowden, an 80-year-old granddaughter of a slave. She told me that in the late 1960s she owed a local clinic $20. She started to walk through the front door, but it was slammed in her face. A white woman shouted mean, hateful things at her. Dowden wouldn't repeat the words to me, because she's too dignified.
But Dowden was determined to pay off her $20 debt by walking through the front door without breaking down in tears. She tried several times over the years, but each time she started to walk to the clinic the tears would start flowing.
It took four years. But she finally marched through the clinic's front door, her head held high, and paid her bill. There were no tears. That, my friends, is a portrait of courage and pride of an American hero.
And in a sign of just how complicated race relations are here, Dowden said that years later when the woman who slammed the door in her face died, she cried again. She had always liked the lady deep down inside.
Don't Miss
It's difficult to comprehend the complexities of such race relations, because both sides have always been so intricately tied. To be fair, life in this part of Mississippi has always been a tough existence, white or black. But it would be hard to argue that the blacks didn't get the raw end of the deal.
My time in Como was always a reprieve from my family's life in the city. I'd spend summers there on my grandfather's farm. I did the things a kid loves to do: Fish, ride horses and shoot guns. I also saw some of the hardest working Americans I've ever known. Read Grandson of slaves: Obama is our Moses
Como is a farming town of 1,400 people along Interstate 55, about 45 miles south of Memphis, Tennessee. The names of townfolk have always been as unique as the town itself. People named Bootmouth, Napolean, Straw, Norfleet, One-Eyed Bailey and Ruffin have strolled the streets over the decades. (Sometimes, I wondered if William Faulkner was in the birthing rooms handing out names!)
A railroad track cuts through the middle of town. Even to this day, blacks largely live on one side of the tracks, whites on the other side.
"I'm so po' I can't afford the 'o' and 'r'," said Donna Taylor, a columnist from the local paper who helped arrange some of the interviews.
But by taking this trip, I also risked ruining the image of my grandfather, William Sledge Taylor Jr., the most important person in my life. My grandfather was one of the main farmers in town. Many of the blacks I spoke with once worked for him as sharecroppers.
What if they told painful stories that destroyed my image of him?
I prepared myself for that possibility, but felt I had to tell this story during this moment in our nation's history.
It turned out to be a cathartic trip. Everyone had a great story to tell about my grandfather.
Riding around the farm in my youth, my grandfather taught me everything about cotton. I considered it a rolling classroom, learning about the farm in a Ford pickup on old dirt roads. We always rode with the windows up, so Granddaddy could have my full attention and so I wouldn't be distracted by the outside world.
He made sure I knew how hard the farmhands worked. After fishing trips, he never let me keep my catches; instead, he made me hand-deliver all my catfish to his workers' ramshackle homes.
"No matter where you go in life, never forget where you came from and the little guys who helped get you there," he would say as we hopped back in the truck.
If my grandfather was too busy on the farm, he'd leave me with his favorite worker, Eddie Wilbourn.
Wilbourn was a wonderful man, always quick with a smile and who constantly boasted about his children. While we drove from field to field, he'd show me wallet-sized photos of his daughters who had gone off to Chicago and Los Angeles to make it in the big time.
On June 4, 1991, my grandfather found Wilbourn dead in a cow pasture. "Worst day of my life," my grandfather once told me. He kept Wilbourn's funeral brochure in the top drawer of his desk. The two had worked together since 1945. My grandfather and I would often pull out Wilbourn's funeral brochure and tell our favorite stories about him, years after he was gone.
"Eddie was one of the finest fellas I ever knew," my grandfather once said. "He was just such an honest man, and he helped me do it all. Everybody was crazy about Eddie."
On this recent trip, Eddie's son, William Wilbourn, said, "Because your Granddaddy respected my Daddy so much, it made our lives easier. People respected us more -- whites and blacks -- because of your Granddaddy."
Mary Dowden said when my grandfather was in his 80s, he pulled her to the side and apologized for hiring her as a sharecropper in the late 1940s. "He didn't need to do that, but it meant the world that he did," she said.
Most of all, I wanted to interview one other person in nearby Sledge, Mississippi. Many of you have read or watched the story of James "Little Man" Presley, an American icon who has worked in the fields since he was 6.
I've known Presley since the day I was born. You see, it was my great-grandfather who first hired him as a kid in 1936. That's a difficult thing to fully wrap my head around. Even harder to grasp is the fact I'm a descendant of slave owners.
Presley didn't have to speak with me. Yet he wanted to. He was candid, open and honest about life as a black man in Mississippi. "I don't know how to put it, but we've been ... looked down upon because of our color," he said. "That's pretty hard to take, you know."
But he also gave me more insight about my grandfather. He said my Granddaddy was the only white person who worked directly in the fields with blacks. My grandfather was 14 when he started.
"He worked right there beside us," Presley said. "He always looked out for me; I always looked out for him."
When my grandfather returned from service in World War II in 1945, Presley said he and my grandfather were kicked out of a restaurant in Memphis where they tried to dine together. They drove around the city until they found a restaurant where a white and black person could eat together. "He made me so proud that day," Presley said.
The two worked together for more than 50 years after the war. Presley raised 13 children and six grandchildren, but he rarely qualified for food stamps. "I got turned down on a lot of things, but he helped me out," Presley said of my grandfather. "I'm so proud of him for doing that, because a lot of things he didn't have to help me out with, but he would and I got by."
Presley and I spoke for more than an hour out in the cotton fields. When it came time to depart, the two of us wrapped our arms around each other in a tight embrace. It was a hug representing five generations of family. Presley knew my great-great grandfather in his youth.
We also shook hands. A handshake in these parts means everything: It means I respect you and will never cross you.
I spoke with Presley again Tuesday night to discuss the reports that have aired. He's tickled over the whole thing. We had a good laugh about how it wasn't so long ago that a white man and a black man publicly speaking about such things would've been in a whole heap of trouble. The times are indeed changing.
Before I end this piece, I'll tell you one other story that bodes well for our future. It has to do with this past Election Day.
The local cotton gin in Como was in full swing, churning out bale after bale of cotton when word came that the polling place out in the country wasn't crowded. The gin immediately shut down.
A white cotton ginner and supporter of John McCain loaded up all the black workers in a pickup truck and drove them to cast their ballots.

I think about the history of black voting in Mississippi, and never before have I been so proud to claim Como as home.
If the fine folks of Como -- both white and black -- have figured out how to get along, then maybe there's hope for all those politicians in Washington to fix the mess our country is in.
E-mail to a friend

All About Barack Obama • Mississippi