(CNN) -- A Black Hawk helicopter carrying five people crashed Monday afternoon at the campus of Texas A&M University, killing one person and injuring the others, authorities said.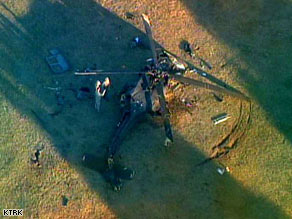 The UH60 Black Hawk was doing a training demonstration for about 190 ROTC cadets.
All five were taken to hospitals, where the death occurred, officials said.
Two of the injured were in critical condition at College Station Medical Center, a spokeswoman said.
Initially, authorities reported six people aboard the helicopter.
There were no students on the helicopter, but one person was a member of Texas A&M's ROTC staff, according to a statement on the university's Web site.

Watch video from the crash »
The aircraft, a UH60 Black Hawk, was doing a training demonstration for about 190 ROTC cadets around 3 p.m., Texas A&M spokesman Jason Cook said.
The copter, which was heavily damaged, was attempting to take off when it crashed. A rudder apparently failed, the university statement said. iReport from the scene of the crash

"All of the sudden, he dropped straight back down into the ground," Scot Walker, publications manager for the A&M Association of Former Students, told The Eagle newspaper.
"There was a bunch of people on Duncan Field and everyone went running and diving for cover."
E-mail to a friend

All About UH-60 Black Hawk Helicopter