NEW YORK (CNN) -- Both the cockpit voice and flight data recorders were recovered in "excellent" condition from a crippled US Airways jetliner that landed safely on the Hudson River last week, a National Transportation Safety Board official said Sunday.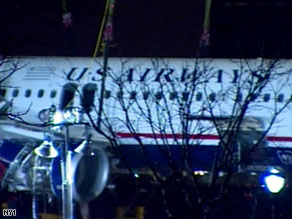 Crews successfully hoisted the wreckage of US Airways Flight 1549 out of the water on Saturday.
And the information from both recorders was consistent with previous reports of the plane hitting a flock of birds before losing power in both engines.
At a news conference Sunday, NTSB board member Kitty Higgins said the cockpit voice recorder captured sounds of loud "thumps" seconds after the pilot and first officer commented on a nearby flock of birds. The thumps are followed by "a rapid decrease in engines sounds," she added.
She said the flight data recorder indicated "both engines lost power simultaneously" when the plane was at 3,200 feet some 90 seconds after taking off from New York's LaGuardia airport Thursday afternoon.
On the voice tape, pilot C.B. "Sully" Sullenberger is heard issuing a "mayday" call and telling air traffic controllers that the flight had lost power in both engines, Higgins said.
City officials, passengers and others lauded the 58-year-old Sullenberger and other crew members, including first officer Jeffrey B. Skiles, 49, and also praised first responders who acted quickly to minimize passengers' injuries in below-freezing temperatures. All 155 people on board the plane survived.
Meanwhile, the mayor of Danville, California -- Sullenberger's hometown -- confirmed to CNN on Sunday that the pilot and his family will attend Tuesday's inauguration of President-elect Barack Obama in Washington.
Mayor Newell Arnerich said Danville is planning for a homecoming celebration for Sullenberger when the family returns.
"We are hoping for Saturday, but their lives are changing faster than the economy these days," said Arnerich, who also is in Washington for the inauguration. iReport.com: I survived 'Miracle on Hudson'
The Airbus A320 was successfully lifted out of the water and placed on a barge Sunday. After its fuel tanks were drained, the plane was taken by barge across the river to a dock in Jersey City, New Jersey, where investigators planned begin their work on the aircraft.

Watch plane being lifted from Hudson River »
Higgins also said Sunday that divers were unable to get to what is apparently the jet's left engine on the river bottom. The engine apparently fell off on landing impact.
Don't Miss
Searchers using radar believe they have located the position of the engine, but icy conditions Sunday prevented divers from reaching it, Higgins said.
Higgins' remarks Sunday about the flight reflected information she gave earlier based on interviews with the two pilots.
Skiles was flying the aircraft on takeoff and "he commented (to Sullenberger) on the (bird) formation, and he said the next thing he knew the windscreen was filled with birds. There was no time to take evasive action," Higgins said Saturday.
When both engines went out, Sullenberger took control of the aircraft and Skiles began complicated procedures to try to restart the engines, Higgins said. She added that interviews with the two indicated there was limited conversation between them as the aircraft began losing altitude.
"These are both very experienced pilots. They knew what they had to do," Higgins said.
Sullenberger was concerned about turning the aircraft back toward LaGuardia or toward an airport at Teterboro, New Jersey, about six miles away, she said.

Watch the plane hit the water »
Quoting Sullenberger, she said he thought the plane was "too low, too slow" and there were too many buildings to make it back to LaGuardia.
Sullenberger didn't think the powerless aircraft could make it over the densely populated New Jersey area to Teterboro, Higgins said, and, she quoted Sullenberger as saying, "There could be catastrophic consequences if we didn't make it."

Listen to callers report plane in the river »
Neither Sullenberger nor Skiles have spoken publicly about the incident.
E-mail to a friend

All About US Airways Group Inc. • Air Travel • U.S. National Transportation Safety Board