By Patrick Oppmann
CNN






TACOMA, Washington (CNN) -- He's an airman, World War II veteran and Nazi concentration camp survivor.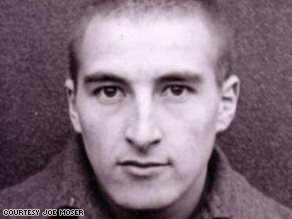 Airman Joe Moser, pictured in 1944 as a prisoner of war, was shot down by the Nazis.
On Thursday, Joe Moser, 87, gained a new distinction. Moser was awarded the Distinguished Flying Cross, a commendation given to aviators for "heroism or extraordinary achievement while participating in an aerial flight."
The medal was a long time coming: 64 years after he earned it in a bombing mission.
Moser flew 44 missions in World War II, but he said he has no memories of the mission in which he earned the medal. He received it for a bombing run carried out July 30, 1944.
But two weeks later, Moser was shot down, and he never learned of the high honors he had earned for another 50 years. That discovery resulted in a years-long process, eventually culminating in Thursday's ceremony.
"I feel great. It makes me real proud of our country," he said.
He said he'll never forget the day he was shot out of the sky. It was August 13, 1944. Moser was 22.

Watch Moser recall, "I was breaking up" »
He had been shooting at German anti-aircraft guns when they responded.
"They got mad and shot back at me. The fire spread across from the left wing," Moser said. "I was breaking up."
Over France, Moser tried to bail from the engulfed P-38 Lightning fighter. "My shoe caught. I was going down with the airplane," he recalled.
With the toe of his boot caught on the plane's canopy, Moser fell with the plane until he was ripped free. He opened his parachute about 100 feet above the ground, he believes.
Landing in a field, Moser was surrounded by a group of French who hid his parachute and tried to help him escape. A German patrol caught Moser and two of the French, and the Germans marched them off to a night of interrogations and imprisonment.
The following morning, guards took away Moser's would-be saviors. He then heard shots.
"I figured the Germans had killed these two Frenchmen. I would have dreams that these two men were killed because they had tried to help me," Moser said.
Years later Moser found out that the men had survived and the shots were fired at them as they escaped. Moser's nightmarish dreams and guilt stopped.
But in 1944, the young pilot was about to be sent to a place worse than any nightmare. Moser was one of 168 fliers who the Germans brought to the notorious Buchenwald concentration camp.

See the horrors of Buchenwald »
The guards at Buchenwald told the airmen they would suffer the same fate as the other prisoners there.
"We wouldn't leave there alive," Moser remembered them saying. "The only way we'd leave was as smoke leaving the crematory."
He said they constantly saw a "steady stream of bodies going to the crematory."

Watch "What a dreadful place" »
From an area in Buchenwald called "Little Camp," the airmen witnessed the atrocious treatment of the other 60,000-plus prisoners. The guards treated those prisoners viciously; they were forced to work to death, and then their bodies were stacked on the ground, Moser said.
About 900 children who Moser said he and his fellow airmen shared a barracks with were moved and never seen again.
Moser said he believed he was days away from death when salvation came in an unlikely form. A group of the allied pilots' sworn enemies -- the Luftwaffe -- was touring Buchenwald. When they saw their fellow aviators' condition, the German pilots demanded that the Allies be sent to a prisoner-of-war camp.
Moser spent the next six months in POW camps, where he was finally liberated at the war's close.
After the war, he returned to Washington state, where he had grown up tending cows on a farm. He repaired furnaces for a living and raised a family. In the 1990s, he learned from a war buddy that he had won the Distinguished Flying Cross when he was shown a logbook from his 474th Fighter Group. But the paperwork had been lost, hampering the process of him receiving the medal.
Efforts to gain the medal went nowhere until Moser and a friend named Gerald Baron co-wrote a book on his experiences called "A Fighter Pilot in Buchenwald."
Moser's story soon traveled up the chain of command at the U.S. Air Force, and on Thursday night at McChord Air Force Base, a ceremony was held, and the medal was pinned on Moser's chest.
He beamed with pride.
Col. Jeffrey Stephenson, the base commander, closed the ceremony by reading from the airmen's creed: "I am faithful to a proud heritage, a tradition of honor, and a legacy of valor."
Looking at Moser, he then said, "Folks, that's what we've seen here tonight."

Moser's story differs from those of 350 American soldiers recently featured in a CNN.com report. Those soldiers were held at a subcamp of Buchenwald and used as slave labor by the Nazi government. Nearly half of them died in captivity or on a subsequent death march.
The Army has said it plans to honor the dozen or so survivors from the subcamp known as Berga an der Elster in coming weeks.
E-mail to a friend

All About Nazi Party • Buchenwald