(CNN) -- Olympic champion Michael Phelps said Friday that he is grateful for the support of friends, family and most of his sponsors, and is focusing on his training in the wake of disciplinary action after a photo surfaced of him smoking from a bong.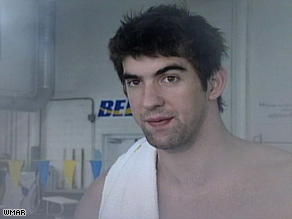 Michael Phelps called the photo incident "something I'll always live with, a lesson I'll always learn from."
"I think it's times like these where you really know who are your friends and family, and are there for you in good times and bad times and support you no matter what," Phelps told CNN affiliate WMAR in Baltimore, Maryland. "I've had a lot of support from my sponsors. I've had a lot of support from friends and family. That's what means the most, you know; those are the people who are going to help you through times like these."
On Thursday, U.S.A. Swimming, the nation's governing body for competitive swimming, announced a three-month suspension, saying it was withdrawing financial support for Phelps and barring him from competition during the period of his "reprimand."
"This is not a situation where any anti-doping rule was violated, but we decided to send a strong message to Michael because he disappointed so many people, particularly the hundreds of thousands of U.S.A. Swimming member kids who look up to him as a role model and a hero," the organization said in a written statement. "Michael has voluntarily accepted this reprimand and has committed to earn back our trust."
Also Thursday, Kellogg Co. announced that it would not renew Phelps' advertising contract when it expires at the end of February.
"Michael's most recent behavior is not consistent with the image of Kellogg," spokeswoman Susanne Norwitz said.

Watch a report on Phelps' business future »
Phelps, 23, who won a record eight gold medals at the 2008 Olympic Summer Games in Beijing, China, admitted "regrettable behavior" on Sunday after a British newspaper published the photograph.
The tabloid News of the World showed Phelps using the bong during what it said was a November party at the University of South Carolina in Columbia.
The glass pipes are most commonly used to smoke marijuana.
University police and Columbia police have both said they will not pursue charges against Phelps, but the Richland County Sheriff's Office said this week that it was investigating the matter and would file criminal charges against him if warranted.
"Like I've said before, it was bad and stupid judgment," Phelps said Friday. "It's something I'll always live with, a lesson I'll always learn from."
On the 2012 Olympics, Phelps said he's "taking it step by step, day by day. It's still a long way between now and then. But, I'm back here training for who knows what yet. But I'm back in the water, back doing the thing that I love."
He said that since the story broke, photographers have been in front of his house every morning until he leaves to train.
"There are ups and downs," he said. "This is something I've always wanted to do is become a professional athlete and do what I've done. ... You have to learn as you go, and that's what I'm doing right now."
Asked about his mother's reaction, Phelps said, "Mom wasn't happy, obviously. ... Supportive through it, but wasn't happy."
In addition, he said, "I've been getting messages on Facebook, both good and bad. E-mails, both good and bad. Text messages, all good. This is a time where you need support. To be able to have the support from all of my sponsors -- the majority of my sponsors, probably 90 percent of the sponsors -- it means a lot, and it's something I'm very thankful for."
On the suspension, he said, "It's not my decision, it's theirs. ... Obviously, for mistakes, you should get punished."

Watch Phelps talk about his suspension »
But "I'm still going to be training, no matter what," he said. "That's the only good thing about it. I won't be competing, but I'll be training."

Phelps was arrested in 2004 on charges of driving under the influence in Salisbury, Maryland. He pleaded guilty, was sentenced to 18 months of probation and apologized.
He is one of 12 Olympic athletes who have pledged to "My Victory," an initiative launched last year by the U.S. Anti-Doping Agency aimed at keeping competitive sports clean.
E-mail to a friend

All About Michael Phelps • Marijuana