By Paul Courson
CNN





WASHINGTON (CNN) -- The Library of Congress marks 200 years since the birth of Abraham Lincoln on Thursday by opening a special exhibit featuring his handwritten speeches and artifacts, including the Bible used last month by President Obama during his swearing-in.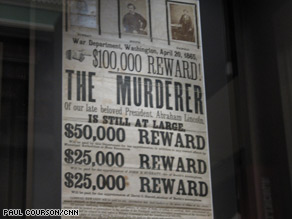 An original "wanted" poster reads: "$100,000 Reward. The murderer is still at large."
"This exhibit, in a little more than 200 items, presents Lincoln, the man and the politician," said John Sellers, curator of the exhibit that runs through May 9.
"The thing that you will see most of is that he had a hatred of inequality," Sellers said during a preview for the media on Monday.
Lincoln successfully fought a proposal for legalized slavery as development spread to the western United States, and he eventually brought an end to slavery throughout the country.
Among the manuscripts on display is a letter he wrote in impassioned defense of his Emancipation Proclamation.
The librarian of Congress, James Billington, acknowledges the materials are already available on the Internet in "digitized" form, but he said "there is something about seeing the original because, after all, Lincoln was a man of words, of rare eloquences."
"His words changed history," Billington said.
The exhibit at the Library of Congress -- located on Capitol Hill next to the U.S. Supreme Court -- was in the works for Lincoln's bicentennial long before the presidential campaign in which voters elected Barack Obama. Billington told CNN the exhibition is all the more profound as visitors explore the links between the anti-slavery Lincoln and the African-American Obama.
Referring to Lincoln's original handwritten speeches, Billington said: "You want to see how the man wrote it out; how he made corrections; how he pasted together the first inaugural address; how he listened to other people; how he grew with interaction with the public, pretty much the way President Obama has done, established in the power of words."
There are also grim reminders of Lincoln's assassination. An original "wanted" poster with large black letters reads: "$100,000 Reward. The murderer is still at large."
The poster includes a photograph of John Wilkes Booth, who was on the run after being accused of firing the fatal shots at Ford's Theatre in Washington, where Lincoln was attending a play. iReport.com: Deliver one of Lincoln's most famous speeches
"This is the autopsy report," Sellers noted during the preview. "Those are actual blood stains -- Lincoln's blood."
He explained when doctors removed the president's brain during the examination of his body, "the bullet fell to the floor. They couldn't find the bullet, and it actually fell out of the brain while they were holding it."
Other, more lighthearted artifacts are also on display, including an 1860 letter from a girl, urging presidential candidate Lincoln to grow a beard to help his prospects with voters.
E-mail to a friend

All About Abraham Lincoln • The Library of Congress • Barack Obama