NEW YORK (CNN) -- Baseball star Alex Rodriguez, who admitted this week he had used steroids, "shamed the game," the commissioner of Major League Baseball said Thursday.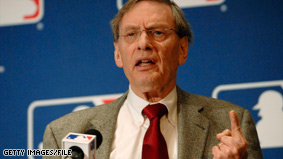 Baseball Commissioner Bud Selig says, "What Alex did was wrong."
"What Alex did was wrong and he will have to live with the damage he has done to his name and reputation," Bud Selig said in a news release.
Rodriguez -- known to fans as "A-Rod" and hailed by many as the best player in the major leagues today -- admitted Monday that he used a "banned substance" during the 2001-2003 seasons.
Rodriguez, the New York Yankees' star third baseman since 2004, made the admission in an interview with ESPN, two days after Sports Illustrated reported that he had tested positive for steroids in 2003, when he was playing for the Texas Rangers.
Major League Baseball first proposed testing for performance-enhancing substances -- steroids and amphetamines -- in 1994, but failed to get the players' union to agree. It finally succeeded in 2002, and testing began on a provisional basis in 2003. MLB says the number of positive tests for steroids has fallen substantially since the program was instituted.
Under the agreement with the players' union, the 2003 testing was designed to find out the extent of the problem and to determine if formal testing and penalties should be adopted. Those who tested positive were to remain anonymous. More than 5 percent of the tests were positive, triggering a formal policy in 2004 that was toughened in 2005.

Watch Obama and MLB fans react to A-Rod steroid news »
Don't Miss
Former Sen. George Mitchell investigated the use of banned substances in baseball at the request of the commissioner, and the House of Representatives later held hearings on the issue.
In connection with the House probe, Houston Astros shortstop Miguel Tejada pleaded guilty Wednesday in federal court to a misdemeanor count of lying to Congress about his knowledge of Major League Baseball players using performance-enhancing drugs.

Watch Tejada's tearful apology »

Although Tejada, 34, could be sentenced to up to a year in prison, a news release from U.S. Attorney Jeffrey A. Taylor's office said his sentence is more likely to range from probation to six months behind bars. Sentencing is set for March 26.
"I made a mistake and now I know how serious a mistake that I made," Tejada told reporters, wiping tears from his eyes.
E-mail to a friend

All About Alex Rodriguez • Texas Rangers