From Mike Mount
CNN Senior Pentagon Producer





WASHINGTON (CNN) -- A new Defense Department review of detainee operations at Guantanamo Bay, Cuba, concludes that the operation does not torture detainees but rather treats them humanely and in accordance with the Geneva Conventions.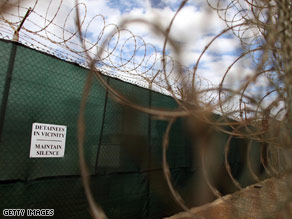 The report was sent to President Obama, who has ordered the closing of the detention center within a year.
The report, released to the public Monday, was prepared for President Obama, who has ordered the closing of the facility within a year. The report, prepared by the vice chief of naval operations, Vice Adm. Patrick Walsh, was sent to the president over the weekend.
The Defense Department review recommends that high-value and violent detainees be allowed to pray and have recreation time in groups, according to the report.
"In our opinion, the key to socialization is providing more human-to-human contact, recreation opportunities with several detainees together, intellectual stimulation, and group prayer," the report says.
The review also recommends resolving the continued detention of detainees who are not listed as "enemy combatants" and are being held without charges. In addition, it endorses the videotaping of interrogations in all of the detention camps to confirm humane treatment.

Watch a former Guantanamo detainee's allegations of torture »

Several detainees have claimed in court documents that they were tortured and subjected to inhumane treatment in the military prison in the U.S. naval base at Guantanamo Bay.
Most of the complaints concern the early years of the facility, after then-President George W. Bush determined that "minimum standards for humane treatment" spelled out in the Geneva Conventions "did not apply to al Qaeda or Taliban detainees," according to a Senate Armed Services Committee report issued in December.
E-mail to a friend

All About Guantanamo Bay • U.S. Department of Defense