WASHINGTON (CNN) -- Japanese Prime Minister Taro Aso met with President Barack Obama on Tuesday making him the first head of state to be hosted by the new administration.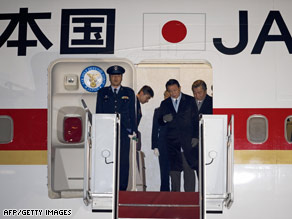 Japanese Prime Minister Taro Aso steps off his Boeing 747 at Andrews Air Force Base in Maryland Monday.
It was a long trip -- 6,800 miles (11,000 km) -- for a short meeting -- one hour -- and happened as Obama was preparing his first address to a joint session of Congress.
Sitting next to Aso in the White House, Obama said: "The friendship between the United States and Japan is extraordinarily important.
"It is for that reason that the prime minister is the first foreign dignitary to visit me in the Oval Office."
Obama said the U.S.-Japanese alliance would be crucial in solving international problems including climate change.
"We think we have to work together, not only on issues relating to the Pacific Rim, but throughout the world," Obama added.
Aso said the global economy was also on the agenda at their meeting.
"We are the number 1 and second biggest economies of the world. We will have to work hand in hand.
Don't Miss
"I think we are the only two nations which are powerful enough to solve those very critical, vital issue," Aso said.
Japan's Cabinet Secretary Takeo Kawamura said that being the first to visit the Obama White House was an indication of the priority the new president placed on the relationship.
Another topic likely to have been on the agenda was Japan's Asian neighbor North Korea, which U.S. intelligence says is preparing to test a long-range missile. Pyongyang has denied the charge, instead saying it is making preparations to launch a satellite.
A test-fire by North Korea in 2006 failed 40 seconds after launch. The missile is thought to have an intended range of about 4,200 miles (6,700 kilometers), which -- if true -- could give it the capability of striking Alaska or Hawaii.

Aso's visit to Washington comes, as his approval rating stands at a meager 11 percent, the second lowest ever recorded for a Japanese prime minister. Yoshiro Mori, a former prime minister, resigned after his rate bottomed out at 9 percent.
Last week his finance minister Shoichi Nakagawa announced he will step down after coming under fire for appearing intoxicated at a weekend news conference during the G-7 meeting in Rome.
E-mail to a friend

CNN's Chie Kobayashi contributed to this report.
All About United States • World Politics