(CNN) -- One in 50 children is homeless in the United States every year, according to a report released Tuesday.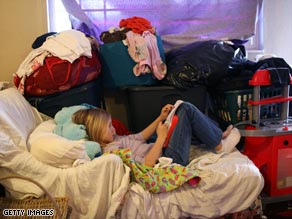 The National Center on Family Homelessness estimates more than 1.5 million children are without a home.
The report, by the National Center on Family Homelessness, analyzed data from 2005-06 and found that more than 1.5 million children were without a home.
"These numbers will grow as home foreclosures continue to rise," Ellen Bassuk, president of the center, said in a statement.
The study ranked states on their performance in four areas: the extent of child homelessness, the risk for it, child well-being and the state's policy and planning efforts.
The states that fared the poorest were Texas, Georgia, Arkansas, New Mexico and Louisiana.
Connecticut, New Hampshire, Hawaii, Rhode Island and North Dakota performed the best.
Homeless children have poor health, emotional problems and low graduation rates, the study found.
"The consequences to our society will play out for decades," Bassuk said. "As we bail out the rest of our nation, it is also time to come to their aid."
The report offers recommendations such as improved support to ensure that children's schooling is not interrupted when they lose their homes, and services to address the trauma of homelessness.
Other highlights in the report, "America's Youngest Outcasts: State Report Card on Child Homelessness:"
• 42 percent of homeless children are younger than 6.
• African-American and Native American children are disproportionately represented.
• More than 1 in 7 homeless children have moderate to severe health conditions, such as asthma.
• Approximately 1.16 million of homeless children today will not graduate from high school.
E-mail to a friend

All About New Mexico • Asthma