From Gene Bloch
CNN





NEW YORK (CNN) -- Under pressure from the Treasury Department, insurance giant AIG plans to scale back bonuses and compensation for some of its top-earning employees.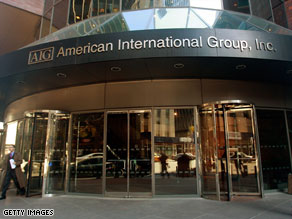 AIG has agreed to restructure bonus payments to its employees.
CNN obtained a letter Saturday from AIG Chairman and CEO Edward Liddy to Treasury Secretary Timothy Geithner, in which Liddy pledges in the letter to reduce 2009 bonus payments, which AIG refers to as "retention payments," by at least 30 percent.
Liddy also addresses steps to limit compensation in AIG Financial Products, the London-based unit responsible for issuing the risky credit default swaps, which on several occasions has brought the company to the brink of collapse.
In the letter, Liddy says the unit's 25 highest-paid contract employees will reduce their salaries to $1 this year and all other officers in the unit will reduce their salaries by 10 percent. Other "non-cash compensation" will be reduced or eliminated.
Liddy, who took the helm of the company in September after it had nearly failed, also refers to a conversation he had with Geithner last week, which the AIG chief describes as "a difficult one for me."
Liddy says in the letter that he personally does not receive a bonus, but that some bonus payments are unavoidable, because they are binding legal obligations of the company, and "there are serious legal, as well as business consequences for not paying."
Some of the bonus payments are due on Sunday, according to the letter.
At the meeting Wednesday, Geithner told Liddy that millions of dollars in bonuses to senior employees were unacceptable and needed to be renegotiated, according to a senior administration official.
While the bonuses were never a secret, the official told CNN, Geithner felt giving them "was still inappropriate, given the state of the economy and the recent restructuring of the AIG agreement." AIG received at least $170 billion in federal bailout money.

Watch how declining economy affects insurance companies »

Liddy, however, makes clear that he made the changes with trepidation, saying in the letter: "I would not be doing my job if I did not directly advise you of my grave concern about the long-term consequences of the actions we are taking today," specifying that if employees believe the company will have trouble attracting and retaining "the best and the brightest ... if employees believe that their compensation is subject to continued and arbitrary adjustment by the U.S. Treasury."
The company, which lost a record $62 billion in the fourth quarter of 2008, has more than 74 million insurance policies issued in 130 countries around the world.
E-mail to a friend

CNN's Elaine Quijano contributed to this report.
All About U.S. Department of the Treasury • Timothy Geithner