By Allan Sloan
Senior Editor-at-large, Fortune magazine





(CNN) -- Everyone is looking for foolproof investment advice. So let me give some: Don't assume that what's happened in the past will happen in the future, even if the past covers a long, long period.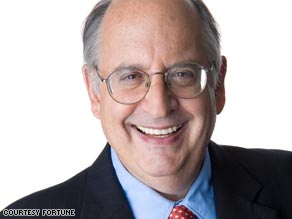 Allan Sloan says don't expect history to be an infallible to guide to how to invest your money.
Readers of most investment advice and viewers of many financial TV shows have been told over and over that history's a reliable guide to investing, only to find out that their gurus didn't have the answer to avoiding the bear market.
Every time you hear various yammerers opining on where to put your money now, remember that if they really could call market turns, they wouldn't be sharing the information with you without getting paid for it.
Consider a recent number that turned traditional investment wisdom upside down.
Historically, stocks have produced the greatest long-term return of any financial asset, and "stocks for the long term" was the traditional mantra.
The thinking was that investors took on a worthwhile risk by putting money in stocks rather than taking the guaranteed interest on a U.S. Treasury bond. The idea was that the risk would be justified by stocks posting a better return than bonds. But by the end of 2008, for the first time ever, we saw a 25-year period in which long-term U.S. Treasury bonds actually outperformed the Standard & Poor's 500 stocks.
The numbers, from Ibbotson Associates, a Morningstar company that tracks long-term asset returns, were 11 percent a year, compounded, for bonds, versus 9.77 percent for stocks.
What do these 25-year numbers tell you about how to invest today? In a word: nothing.
Road to Rescue: CNN Survival Guide
5 days of unprecedented worldwide reporting on the money meltdown that's changing your life.
All week, on CNN

It would be great to take a time machine back to 1984 and buy long-term Treasury bonds. But buying them now and expecting an 11 percent return over the next 25 years is folly.
Treasury bonds had a great run because they benefited from an unusually long period of falling interest rates, which declined from 11.97 percent at the start of 1984 to only 3.03 percent last December 31, according to Ibbotson.
When rates fall like that, bond prices soar. But now interest rates on long Treasury bonds are so low that they can't fall much further -- which means bonds don't have a great upside.
Listen to words of wisdom from Michele Gambera, Ibbotson's chief economist. "We can find some guidance in the past," he told me, "but investing is not a determinative world where everything happens the same way over and over." Indeed.
A word of warning about long-term Treasury bonds. I think rates are likely to rise, probably quite sharply, over the next few years, which would clobber the prices of existing bonds. My reasoning: As the world financial panic (which has turned Treasury securities into a supposed safe haven) abates and the impact of huge U.S. government budget deficits is felt as the government has to sell vast amounts of bonds to raise money, rates have nowhere to go but up.
Don't Miss
We're already seeing the Chinese government, our country's biggest creditor, asking the U.S. to guarantee that rising rates on Treasuries won't erode the value of its trillion-dollar holdings. That's not an encouraging sign.
Now, to stocks. Whether you should have money in stocks (and if so, how much) depends on your situation, goals, time horizon, staying power, and, most of all, your risk tolerance. Sure, this is standard advice -- but it's good advice, because it doesn't tell you what to do, it helps you figure out what you want.
Until last week, recent stock talk had been primarily gloom and doom. It was about how stocks had fallen sharply from their 2007 highs, how that decline was picking up speed since President Obama's election, and how no bottom was in sight. Then last week, stocks rose more than 10 percent.
Does this mean that we've seen the bottom of the hideous bear market that began after stocks peaked in October of 2007? Would that I knew.
Last December, with stocks way down from their highs but well above current levels, I wrote that stocks seemed like a reasonable long-term bet for someone with a time horizon of six to seven years who wasn't using borrowed money and could ride out a possible sharp decline. I still think that's the case.
Gambera, the Ibbotson economist, is far more conservative than I. He told me that when it comes to stocks, he considers "long-term" to be 20 years.
The one thing I wouldn't count on is stocks regaining their former heights anytime soon. Despite last week's rally -- boy, did it feel good to see all-green screens of my holdings -- the Wilshire 5000 Index, which includes all U.S. stocks, was still 51 percent (or $10.2 trillion) below its high of October 9, 2007. That means that prices have to more than double to get back to their highs.
Should prices rise 15 percent a year compounded -- a return reminiscent of the great 1982-2000 bull market -- it would still take five years for stocks to regain their highs of 17 months ago. In other words, stocks would have been dead money (with no return except for dividends) for six-and-a-half years. And that's optimistic, because it assumes a good market through the spring of 2014.
This is the second horrendous bear market we've had since 2000, when the tech-telecom stock bubble burst. It took seven years for stocks to regain those highs.
So, you see, even though stocks have produced a nice return over time, they can clobber you for extended periods. That's especially true if you buy in at or near market peaks, when stocks, by definition, are wildly popular.
Over the very long haul -- from January 1, 1926, through last Thursday -- the S&P 500 stocks returned 9.37 percent a year in price gains and reinvested dividends, according to Ibbotson. Will stocks return anything like that from now on? No one knows. History is one thing, destiny is quite another. And that's the bottom line.
The opinions expressed in this commentary are solely those of Allan Sloan.
E-mail to a friend

All About Financial Markets • Stock Performance • Fixed Income Securities