By Rich Phillips and John Zarrella
CNN






(CNN) -- The grass is still green, the baseball diamond pristine. But the crack of the bat is gone, and the sizzle of a Dodger Dog is no more.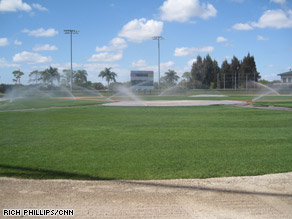 The Vero Beach field, though without a team, still needs maintenance.
For the first time in 61 years, Dodgertown, the spring training home of the Los Angeles Dodgers, is empty.
Once it was one of the most celebrated and memorable spring training experiences in baseball, but the Dodgers moved their balls, bats and memories from Vero Beach, Florida, to Glendale, Arizona, where a new facility -- closer to California -- was waiting.
But along with their history, the Dodgers took with them a fair amount of economic revenue that Indian River County and the city of Vero Beach sorely miss.
It's an area synonymous with Dodgertown.
"We need everything we can to bring business back to our community," Vero Beach City Manager Jim Gabbard said.
"With baseball, you have an identity," he said. Not to mention the $35 million or so that the Dodgers brought in to the beachside retirement community, which is already taking a hit from the economic downturn.
"Things were bad enough, and now here's a little bit more hitting us down," Indian River County Commissioner Peter O'Bryan said. With fewer tourists, and restaurants and small businesses hurting, the area is feeling it.
Croce Giambanco owns Nino's Corner, a pizza and sub shop down the street from Dodgertown. He remembers the good old days, when restaurants like his were booming.
Road to Rescue: CNN Survival Guide
Watch live reports from Vero Beach all day on CNN Newsroom.


"You could never get a seat anywhere in this town after a game," he said. March, he says, was always his busiest month, with traffic jams of tourists who stopped by before and after games.
"We're not having the business that we did in the past years, so it's gone. They're not here. That's it," he said.
Local officials had hoped to lure another major league team here but struck out. Now they are focusing on bringing in year-round baseball tournaments to the complex, which has a hotel, a golf course and multiple fields.
"Parents will travel to see their kids play regardless of the economy, and so I think if we start hosting some of these tournaments and create some enthusiasm, people will come," O'Bryan said.
It costs the county about $100,000 per month to maintain the complex of fields.
Steve Carlsward has been the supervisor of the grounds crew for 27 years.
"I feel, right now, if you wanted to play a game on this field, we could put lines on it, bases out, water the skin, and we'd be ready to go," he said.
But while they are dying for baseball in Vero Beach, about 150 miles south in Miami, baseball may be just dying.
Don't Miss
The Florida Marlins want a $600 million ballpark. The city of Miami and Miami-Dade County would pay for most of it with tourist tax dollars.
But with tourism declining during one of the worst economic crises in history, it may be too big a price tag at the wrong time for the Marlins.
The Marlins have explored options with other cities. The current stadium situation is not profitable enough for the Marlins to survive, they say.
Michael Burnstine is a Miami Beach resident who began a grass-roots movement called the Coalition Against the Marlins Bailout.
"To sit here and take monies that we're not even sure are going to be there and put them towards a stadium that really is for the benefit of a private, for-profit enterprise is just the wrong time period. The end," he said.
Miami-Dade County Mayor Carlos Alvarez is one of the chief supporters of the stadium.
"We will have a major league baseball team here for the next 35 years," he said. "We will have, in the short term, 1,000, 2,000 jobs in the construction area."
Alvarez says the stadium construction is as good a stimulus as there is in a community where construction is down 16 percent.
"What is the stimulus money going to do?" he asked with a smile. "You're investing money in projects to create jobs. What's the stadium? A major project that creates jobs. That's exactly what it is."
The City of Miami Commission voted Thursday by a 3-2 margin to move forward with the building of the stadium. Miami-Dade County will also have to put it to a vote, which may come next week.
But what if the Marlins strike out in Miami? Back up in Vero Beach, O'Bryan has an idea: "If they want to become the Vero Beach Marlins, we'll have them."
E-mail to a friend

All About Baseball • Miami • Los Angeles Dodgers • Florida Marlins